Kick-Ass 2
(2013)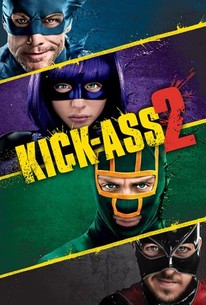 Movie Info
His heroic antics having inspired a citywide wave of masked vigilantes, Kick-Ass (Aaron Taylor-Johnson) joins their ranks to help clean up the streets, only to face a formidable challenge when the vengeful Red Mist (Christopher Mintz-Plasse) transforms himself into the world's first super villain in this sequel written and directed by Jeff Wadlow (Never Back Down). Dave/Kick-Ass and Mindy/Hit Girl (Chloë Grace Moretz) are about to graduate high school and become a crime-fighting duo when their noble plans are foiled by Mindy's strict parents. Now, as Mindy hangs up her Hit Girl uniform and navigates the treacherous high-school social scene, Kick-Ass begins patrolling the streets with Justice Forever, a fearless group of urban watchdogs fronted by former mob thug Colonel Stars and Stripes (Jim Carrey). They've got the criminal element on the run when Chris D'Amico lays his Red Mist persona to rest, and reemerges as The Mother F**ker, a powerful criminal mastermind with a loyal legion of henchmen. The Mother F**ker is determined to avenge the death of his late father, who previously perished at the hands of Kick-Ass and Hit Girl. Now, as The Mother F**ker and his minions begin targeting the members of Justice Forever, Hit Girl realizes that the only way to save Kick-Ass and his new friends is to emerge from her forced retirement, and fight back with everything she's got. John Leguizamo, Donald Faison, Morris Chestnut, and Robert Emms co-star. ~ Jason Buchanan, Rovi
News & Interviews for Kick-Ass 2
Critic Reviews for Kick-Ass 2
Audience Reviews for Kick-Ass 2
By trying to combine an idiotic slapstick humor and the graphic violence that characterized the first film, the result is an irregular sequel that, even if sometimes exciting and able to make us laugh, is totally unnecessary and never on a par with that excellent movie.
Carlos Magalhães
Super Reviewer
Decent sequel that does not quite reach the level of fun the original film did. It's particularly disturbing how similar Hit-Girls storyline is to the Carrie sequel, which also starred Moretz. Some of the new characters are fun and show promise, but we don't get to know them very well. The action is pretty gory again but not quite as spectacular as in part one. Entertaining but not quite the riot one could have hoped for.
Everything good about the original is missing from this mess.
James Alvarez
Super Reviewer
Kick-Ass 2 Quotes
| | |
| --- | --- |
| Dave Lizewski/Kick-Ass: | Sorry |
| Dave Lizewski/Kick-Ass: | Sorry. |
| Goth Kid: | Watch me end your life! |
| | |
| --- | --- |
| Marty/Battle Guy: | It's just TV Dave, not peace in the Middle East. |
| | |
| --- | --- |
| Brooke: | You've never kissed a boy, have you? |
| Dolce: | Oh my god, that's so adorable! |
| Harlow: | Maybe she's a dike. |
| Mindy Macready/Hit Girl: | Maybe I'll jam my foot up your snatch. |
| | |
| --- | --- |
| Mindy Macready/Hit Girl: | Game on, cocksuckers! |