Kickboxer 2: The Road Back
(1990)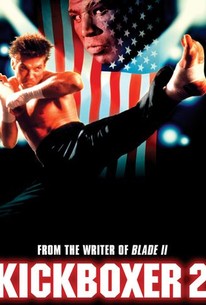 Kickboxer 2: The Road Back Photos
Movie Info
This sequel to the popular Jean-Claude Van Damme vehicle centers on the exploits of David Sloan (Sasha Mitchell) the younger brother of the two fighters (Van Damme and Dennis Alexio) who died in the first installment. As this episode begins, David has given up competition and is running a kickboxing school for underprivileged urban kids. His life changes abruptly when the villainous fight manager who murdered his brother shows up and forces him back into the ring. Fortunately, David's Zen master shows up for spiritual and moral support. The ensuing fight scenes are quite bloody and violent.
Critic Reviews for Kickboxer 2: The Road Back
Audience Reviews for Kickboxer 2: The Road Back
½
quite an interesting followup to Van Damme's original. I'm was confused by the idea of having Tong Po coming back to exact revenge on the sloane family. David Sloane is more believable in the lead then Van Damme but he lacks the fight training which made the first film really work. The film has much more depth then the first and is much more serious. the original had a sense of humour which worked into the films audience while this one clearly was in a darker place considering the revenge plot. The film has so much more going for it then it gets credit for, I enjoy watching this film along with the first as they are connecting story lines. The film would be the last kickboxer film to be any good as the series quickly went down hill from here. Sasha Mitchell was not a Van Damme which ultimately alienated the audience who wanted a remake of the first. he is likable and got better at he's fighting as the series went along. He definitely should have put all he's eggs into this basket as the rest of the films went straight to video
Brendan O'Connor
Super Reviewer
Sasha Mitchell makes a great martial art sequences in this sequel in several action scenes.
Dean McKenna
Super Reviewer
½
ok for a sequel without the original star
Kickboxer 2: The Road Back Quotes
There are no approved quotes yet for this movie.