Kickin' It Old Skool
(2007)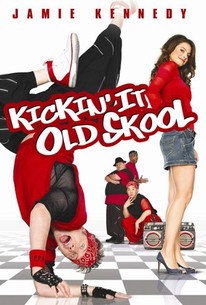 Kickin' It Old Skool Photos
Movie Info
Rendered comatose for 20 years after a freak breakdancing accident, former child dancer Justin Schumacher (Jamie Kennedy) awakens from his extended repose with no motor skills and the mental capacity of a 12-year-old. So much has changed since Justin lapsed into a coma; not only have people stopped wearing parachute pants, the Internet has connected people in a manner that no child of the 1980s could have ever imagined. Dancing, however, is the one constant that remains as popular as ever. Upon discovering that his mountainous medical bills have drained mom and dad's bank account and the love of his life (Maria Menounos) is engaged to his lifelong nemesis (Michael Rosenbaum), the breakdancing Rip Van Winkle attempts to reassemble his former dance troupe in hopes of winning back the girl and saving his parents' failing yogurt shop.
News & Interviews for Kickin' It Old Skool
Critic Reviews for Kickin' It Old Skool
Audience Reviews for Kickin' It Old Skool
Extremely enjoyable! I have no idea why it's rated soo damn low!
Bannan instant enigma- just add water
Super Reviewer
½
[CENTER][img]http://img177.imageshack.us/img177/1803/marla2ik5.jpg[/img][/CENTER] [COLOR=DarkRed][FONT=Arial]My Kid Could Paint That - Prodigy, fraud, normal preschooler? This incisive and captivating documentary looks at a four-year-old who has made thousands of dollars on her modern art paintings. If she is the real deal, what does that say about modern art when a child can compete with serious artists? This intensely interesting story is given as objective a viewpoint as possible even as the filmmaker is forced into his own movie when the family he's been documenting is looking at his film as a favorable retort to a very critical 60 Minutes segment casting doubt that the paintings are genuine. The filmmaker has his own doubts and explores the nature of journalism and storytelling and objectivity and what is art, and that's when the documentary transcends its story and becomes about much more. I have no doubt that the child is involved in painting (the question registers with how involved her failed artist father is), but the people that are buying her paintings are buying them because they are also purchasing the story. [I]My Kid Could Paint That[/I], as one interview subject states, is really a story about adults seeking the limelight, because otherwise it would just be a kid having fun painting in the confines of her home. Is she exploited? Is she a genuine talent in a world of paint splashes and squiggly lines? Will she ever just be allowed to be a kid? These are just a few of the tantalizing questions this mature and insightful movie raises. Nate's Grade: B+ The Namesake - Extremely heartfelt, this cross-generational family drama runs aground on some familiar territory but is boasted by strong acting. Whenever the film's focus falls to the arranged married couple settling into a new country and a new relationship, that is when [I]The Namesake[/I] is the most affecting and interesting. Too much time is spent on Gogol (Kal Penn) as their son who has completely embraced American culture and throws off his Indian roots. Of course he comes around in his opinion but his character never feels fully formed or completely believable, more like a composite of a prodigal son. Director Mira Nair has an obvious personal attachment to this tale of an Indian family trying to make their way in the U.S. of A, and she never misses her mark when dealing with the intensely decent and selfless father and his love for his wife. It's a shame then that the movie shifts too much focus at the halfway point onto Gogol. [I]The Namesake[/I] is a touching and entertaining that's a cut above thanks to sensitive performances. Nate's Grade: B+ Kickin' It Old Skool - A moderately surprising comedy that's really much more fish-out-of--water than tired [I]You Got Served[/I] dance parody. Jamie Kennedy busts a move as a kid in a man's body who wakes up after being in a coma for 20 years. There is an overemphasis on recreating the 80s in the early part, with a crushing amount of catch phrases, name drops, and dated toys and fashions. The rest of the film follows the sports formula closely as Kennedy reassembles his aged Funky Fresh Boys to win a dance competition for standard goals like saving his family and winning the girl of his dreams. [I]Kickin' It[/I] is a simpleton comedy that never aims it sights too high, but every now and then the film connects on a gag or a character that produces some real yuks (my favorite being a homeless man convinced he invented break dancing). Some of the jokes are pretty dusty and the romance is, like most of the conflict, forced and contrived, and yet I cannot hate this movie. I never grew weary watching it even though during the climactic dance-off tournament there is a dearth of even attempted comedy. Nate's Grade: C A Mighty Heart - Good intentions and some proficient camerawork can only go so far to make a film worthwhile. Angelina Jolie gives the best performance of her career as kidnapped Wall Street Journal reporter Daniel Pearl's wife (she's French and Cuban, making for one really tricky accent). I wanted to like this movie more. The subject matter is serious and timely, the filmmaking has a sturdy docu-drama look, and the acting never comes across as phony, but alas, I think I mentally checked out because much of the film is a detective story that I already know the ending to. Daniel Pearl was infamously beheaded, so watching an hour of his wife, friends, and local police scramble to track down key figures, their allegiances and acquaintances, and the whereabouts of Daniels can come across as fruitless and somewhat cruel. This film doesn't have the same cathartic feel that [I]United 93[/I] had because that moment was universal, and while I can admire the cinematography and superb acting I can't ignore the fact that watching people search and fail gives me little emotional reward as a viewer. Nate's Grade: B Evening - A chick flick crammed with lots of bona fide stars and A-list talent that manages to squander all talent. It slogs on and on, the back and forth nature of the plot does little to keep an audience alert, and the story it tells in the past is so pedestrian, so miniscule, and ultimately so mundane that you can't help but wonder why an old woman on her deathbed would be flashing back and remembering it. This high profile weepy never finds the right tone and often settles for maudlin and predictable plot turns. [I]Evening[/I] is the kind of movie that kills the chances for a large, female-driven film to get made in Hollywood. Nate's Grade: C-[/FONT][/COLOR]
Nate Zoebl
Super Reviewer
Kickin' It Old Skool Quotes
There are no approved quotes yet for this movie.