Kid Millions
(1934)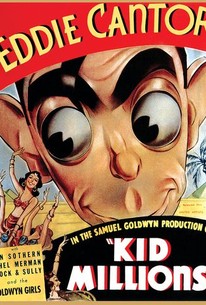 AUDIENCE SCORE
Critic Consensus: No consensus yet.
Movie Info
Brooklyn tugboat worker Eddie (Eddie Cantor), bullied and cowed by his tough-guy stepfather and stepbrothers (a la Harold Lloyd's The Kid Brother), inherits $77 million from his uncle, an Egyptologist. Con artist Dot (Ethel Merman) wants to get her lunchhooks on the money, and to this end offers herself as Eddie's adopted mother (never mind that she's nearly 20 years younger), intending to have her thuggish brother Louie (Warren Hymer) bump off our hero at the first opportunity. The nonsensical plotline ends up with Eddie, Dot, Louie, pompous Southern colonel Larrabee (Berton Churchill), and nominal romantic leads Jerry (George Murphy in his film debut) and Jane (Ann Sothern) trapped in the palace of Arab potentate Mulhulla (Paul Harvey). The better-than-average comic banter includes some funny bits between Cantor and Eve Sully, of the comedy team of "Block and Sully" (her husband-partner Jesse Block is also in the picture, but just barely). Spotted among the featured players in Kid Millions are such "Our Gang" members as Stymie Beard, Scotty Beckett and Tommy Bond, and there's a specialty by the Nicholas Brothers during Cantor's obligatory "blackface" number; and yes, that's Lucille Ball as a blonde Goldwyn Girl in the harem sequence. PS: According to Ethel Merman, the film's elaborate Technicolor ice-cream factory finale, in which Eddie allows dozens of tenement kids to gorge themselves on his tasty confections, posed censorship problems: while producer Sam Goldwyn was allowed to show the little boys with comically extended stomachs, he was not permitted to do so with the little girls, for fear that the audience might think the female moppets were pregnant!
Critic Reviews for Kid Millions
All Critics (3) | Fresh (2) | Rotten (1)
Another one of those excessively carpentered vehicles in which a vast structure is built to hold up a slipping star.
Kid Millions is better than Roman Scandals and almost as good as The Kid From Spain - which this reviewer saw twice, then went to see again.
Eddie Cantor manages to be pretty funny, though practically smothered in moth-eaten jokes. The real hit of the picture, however, is Ethel Merman.
Audience Reviews
There are no featured reviews for Kid Millions at this time.
Kid Millions Quotes
There are no approved quotes yet for this movie.