Kidnapped
(1938)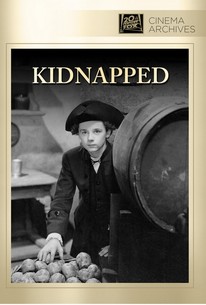 AUDIENCE SCORE
Critic Consensus: No consensus yet.
Movie Info
Robert Louis Stevenson's adventure tale of a young 18th century boy betrayed by his wicked uncle didn't need a romantic subplot, but that didn't stop 20th Century Fox from including a female love interest (Arleen Whelan). Bypassing that plot point, Kidnapped stars Freddie Bartholomew as the heir to a Scottish estate, whose supposedly beneficent uncle (Reginald Owen) arranges for the boy to be kidnapped and spirited off to sea. The lad is rescued by Scottish rebel leader Alan Breck (Warner Baxter), and together the pair fight against the British Army troops as they head back through Scotland. Baxter doesn't quite liberate his homeland, but Bartholomew sees to it that his uncle gets his just deserts. Kidnapped was remade in 1947 with Roddy McDowell (just old enough to be given a girlfriend of his own by the screenwriters), then twice more in 1960 and 1971.
Critic Reviews for Kidnapped
All Critics (2) | Fresh (2) | Rotten (0)
Kidnapped is fair historical melodrama, but the original Stevenson parts that survive seem to show that Robert Louis Stevenson could write better for the screen than four Hollywood writers put together.
The highlight is its character actor hall of fame: John Carradine, C. Aubrey Smith, E.E. Clive, Reginald Owen and Nigel Bruce, who manages not to mangle even such mouthfuls as: 'If it's helping Scotland, no daughter of mine would do aught but say 'Aye.''
Audience Reviews for Kidnapped
I saw this on TCM. I've never read the book, so I wasn't familiar with the story. This is the second movie adaptation, and the first with sound. I was expecting something similar to Treasure Island. Because of the time period and a bit of seafaring adventure it did share some things in common with Stevenson's more famous novel. Freddie Bartholomew is very good as the young lead. Old Hollywood was always adding romantic subplots whether one was present in the original story or not. Like I said, I didn't know how much of this film adaptation matched the book source. Jean MacDonald and Warner Baxter have good chemistry as a couple though. I thought it worked, especially when the three main characters pass themselves off as a family. There were a couple instances where I questioned if distances traveled and time passing made logical sense. However the story is constructed fairly well and the characters are all well developed. From what I understand, this film contains a talented collection of many of the British character actors of the day.
Byron Brubaker
Super Reviewer
Kidnapped Quotes
There are no approved quotes yet for this movie.