Kidnapped For Christ
(2014)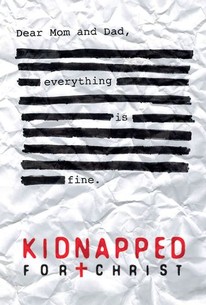 AUDIENCE SCORE
Critic Consensus: No consensus yet.
Movie Info
Ambitious evangelical filmmaker Kate Logan travels to the Dominican Republic to uncover the shocking truth about Escuela Caribe, an American-operated, faith-based reform school that aims to "cure" teens of homosexuality and purge "ungodly" influences though "Christian milieu therapy."
Critic Reviews for Kidnapped For Christ
All Critics (2) | Top Critics (1) | Fresh (2) | Rotten (0)
Logan does an impressive job filling in the blanks of a dirty secret while never sacrificing the quality of her documentary. It looks astoundingly good, given the number of times school administrators stepped in to block her.

The story's unexpected twists and turns make it one of the more satisfying, and harrowing, documentaries of the year.
Audience Reviews for Kidnapped For Christ
½
I had never heard of Escuela Caribe prior to watching this. The most shocking part for me was learning how many programs like these exist.
Erin Collins
Super Reviewer
Kidnapped for Christ is one of the darkest and most emotionally tormenting documentaries I have ever seen. The events depicted and questions raised in this documentary are unlike any other and have lasting effects long after the credits have begun to roll. The documentary begins with various individuals being interviewed about the disappearance of David, a teenager from Greeley, Colorado. Friends, teachers, and neighbors all discuss their suspicions behind his disappearance, including the lies that were spread by his family pertaining to his whereabouts. This is followed by interviews with children who were forcibly taken from their homes in the middle of the night, with strangers breaking down their doors and telling them nothing except that they were being taken to a school in the Dominican Republic, as their parents silently watched. The children were told they had no choice, and if they refused, they were tied up with belts and dragged from their homes. After this ominous introduction, we meet the documentarian, Kate Logan. Logan was the only Evangelical Christian in her family and attended a Christian college after graduation, where she studied film and participated in mission trips around the world. This led her to the Dominican Republic, where she learned of a small, Christian boarding school named "Escuela Caribe" that claimed to rehabilitate troubled teens from the United States in an attempt to bring them closer to Christ. Logan states that she initially set out on this journey to document the positive effects private schools such as these may have on troubled children. What she discovered, however, was much more haunting than what she could ever have expected. Logan begins the documentary by stating that she hopes to discover truth and see how this trip will align with her faith in God. She arrives at Escuela Caribe and meets the directors and instructors of the institution, who all seem cheerful and friendly, singing gospel songs and telling the teens their goal is to "restructure and rediscipline their lives, which are in disarray." The director of the community, David Wier, states that Escuela Caribe is a Christian therapeutic residential boarding facility. The wordiness of this location is a red flag in-and-of-itself, bordering on what a cult might sound like, yet Wier validates the necessity of this community by the manner in which it helps straighten out the lives of troubled kids. Logan continues by interviewing counselors, officers, and staff at the location in an attempt to figure out how this place came to exist. She learns of the founder, Pastor Gordon Blossom, who experienced similar residential treatment in his youth as a juvenile delinquent. We then learn why exactly this "private school" is located in the Dominican Republic. Blossom believed that culture shock was a necessity for rehabilitation, calling it "culture shock therapy," in which taking a child's security from them and placing them in a land with a different language, different food, and different ambiance is seen as a necessity to make the child feel uneasy and alone, therefore giving them full control over the child. Parents are the ones responsible for signing up their children for this private school, where tuition is $72,000 annually. To put things in perspective, this is $10,000 more than Harvard. The staff in the community claims these children are only sent when their situations at home are severe or wholly unmanageable, calling for dire circumstances. A child's typical stay is from 18 to 24 months. The journey through Escuela Caribe becomes even more chilling when you hear the reasons some of the teens were sent to the location in the first place. One teenage girl discusses her issues with panic attacks going untreated, leading to an attempted suicide. Another discusses having been raped and neglected by her family, finding security in drugs and shoplifting. David, who was discussed at the start of the documentary, was sent because of his homosexuality and the intolerance of his parents. Logan expresses her surprise about the teens in the community. Where she expected to find hardened criminals, she seemed to only find troubled and misunderstood kids. Escuela Caribe soon begins to have the look and feel of a cult, with the children repeatedly chanting "Do not conform any longer to the pattern of this world" and being forced to follow daily routines and assignments, down to having the ends of their beds folded at a perfect 45 degree angle or setting perfect spacing between their hung clothes. They are disciplined through excruciating exercise routines, total restriction of any social contact with anyone in the school, being forced to stand facing a wall for hours on end, or given "swats," which are beatings delivered with a wooden paddle or a leather belt. Those in charge of looking over the students tell them not to burden them with their "emotional problems," because it gets in the way of productivity. Most teens in the school claim they are doing anything and everything they have to do just to get home. They are in a constant state of terror because every word they speak and action they commit has a consequence. The severity of the physical and emotional abuse these teens experience becomes much darker and unsettling as the documentary continues, and it is relentlessly enraging. Logan's dismay is poignant and unsettling, and you can hear the pain in her voice as she learns this place was not at all what she expected it to be. In one of the most heart-wrenching interviews of the film, David discusses everything he misses from home: sitting by a piano or playing guitar and singing; talking to his friends; playing with his dog. He is clearly distraught as he tries to hold back tears, reminiscing about "the old days." Furthermore, David is punished with full restrictions for attempting to contact his friends back home, simply to let them know he's alive. David admits that he feels rejected by his parents and the staff at the community, stating that he feels as though he always has to put up a front that isn't his true self and is never truly able to open up. He says he has to hide behind a mask where he can never express who he is, causing a lot of repressed emotional pain. It is at this point that we begin to ask ourselves, does David, or for that matter any of the other teens forced to reside here, really deserve this sort of isolation and punishment? How could something so vile be done in the name of Christianity? Logan is deeply discomforted with how the students are being treated in Escuela Caribe. She begins to questions everything the school stands for, and by extension, her own faith. She prays in search for answers, but the juxtaposition of her faith and the faith instilled by this school are too alarmingly different for her to fully comprehend. Escuela Caribe is not a good or beneficial place. It is socially, emotionally, and physically tormenting to those who are forced to attend it and nothing good has come of it. In Kate Logan's own words, "After all this, it became very clear to me that this so-called therapy was doing more harm than good." It is a place where you are forced to believe what is imposed upon you, and if you do not, there will be violent consequences. Kidnapped for Christ is a deeply distressing, heart-wrenching, and enraging documentary. It is a clear depiction of abuse of power and a perversion of Christianity. It is a look inside a godless community parading with the idea of God. Logan is a true revelation as a documentarian, capturing not only the emotions of the tormented youth but her own during her experience. She is unrelenting, even after she is threatened with legal charges from Escuela Caribe and David's parents if and when she chooses to release this documentary. The horrors of places such as these are described with distressing accuracy by an ex-student of Escuela Caribe: "It's crazy how they would twist the words of the Bible just to make themselves sound legit. What they were doing was not right. I wouldn't wish that on my worst enemy. Not a day." Kidnapped for Christ is now available for streaming on iTunes, Video on Demand, and Showtime On Demand. For more information on the documentary and stopping abuse in adolescent residential programs such as Escuela Caribe, visit kidnappedforchrist.com.
Kidnapped For Christ Quotes
There are no approved quotes yet for this movie.