Kidnapping Mr. Heineken
(2015)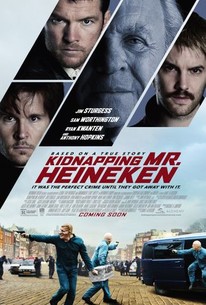 Kidnapping Mr. Heineken Photos
Movie Info
In 1983, a group of childhood friends pulled off the crime of the century: kidnapping one of the richest men in the world, the heir of the Heineken beer empire (Anthony Hopkins). The shocking capture--by gunpoint in broad daylight on the streets of Amsterdam--resulted in the largest ransom ever paid for a kidnapped individual. It was truly the perfect crime...until they got away with it. Based on a true story, KIDNAPPING MR. HEINEKEN also stars Anthony Hopkins, Sam Worthington, Jim Sturgess and Ryan Kwanten. (C) Alchemy
News & Interviews for Kidnapping Mr. Heineken
Critic Reviews for Kidnapping Mr. Heineken
Audience Reviews for Kidnapping Mr. Heineken
½
"Kidnapping Mr. Heineken" is better than the critics' score suggests. The critics are right -- this film has a few issues. Kwanten's "English accent" sounds like Eliza Doolittle's closing night performance from the Rappahannock Community Theater troupe, but then again, how appropriate is an English accent on a blue collar Dutch criminal character in the first place? There's not enough action for a heist picture, but then again, this is a kidnapping picture -- not a heist picture, and by nature a hunker-down-and-hide kidnapping story will always be more static. Hopkins is a bit lackluster in his role, but as ceaselessly fascinating as it would have been to have him reprise his role as the imprisoned Hannibal Lector, it would have been inappropriate for the role of an aging, kidnapped Dutch beer mogul. All in all, "Kidnapping Mr. Heineken" is a perfectly good kidnapping tale with thoughtful costumes, good sets and locations, and decent writing.
Christian C
Super Reviewer
½
Not the movie the trailer had me believe it would be at all. A film that you think is "just okay" and get steadily worse and worse if you ever put any actual thought into it. Completely unsatisfying, and very very stupid. How they managed to get Sam Worthington, Ryan Kwanten, Mark VanEeuwen AND Sir Anthony Hopkins on board I will never understand.
I never even knew that this took place. I found the story to be interesting more than the film itself. Whilst the acting was solid the ending was predictable, even when true.
Ian Walker
Super Reviewer
Kidnapping Mr. Heineken Quotes
There are no approved quotes yet for this movie.