Kids in Love
(2016)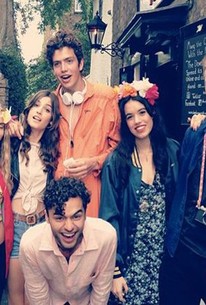 Movie Info
Set against the backdrop of an underground, bohemian London, Kids In Love offers a new take on the traditional coming of age story. Drifting through his gap year with internships and travel plans, Jack has always suspected there was more to life than this. A chance encounter with the beautiful and ethereal Evelyn and her friends, including free spirited Viola, swerves his life radically off course. She is like no one he's ever met before, and he quickly becomes caught up in a whirlwind of all-day parties and wild nights in London's hidden dives with her charismatic friends. Giving up everything to follow Evelyn and her hedonistic lifestyle, it takes Jack a while to realise what he's leaving behind that love isn't a game you want to lose and that these people might not be the kindred spirits he first thought.
Critic Reviews for Kids in Love
Audience Reviews for Kids in Love
The ambition is here and 50 percent of the casting works, it's the undercooked script that stops this from taking off. I hate the cliche pitfall of the boyfriend being a great guy on the surface but is a horrible person underneath. Can't they just make the main guy a bit of the villain because he is trying to jump on the guys girlfriend? Makes sense to me, still going to be a lot of conflict.
Brendan O'Connor
Super Reviewer
Kids in Love Quotes
There are no approved quotes yet for this movie.