Kids in the Hall 'Brain Candy'
(1999)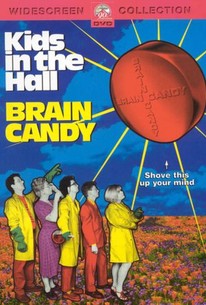 Movie Info
Canadian comedy favorites The Kids in the Hall make their feature-film debut in this acid-laced social satire of modern science and Big Business. The five troupers play 32 roles as they chronicle the desperate attempts of a pharmaceutical company teetering on the brink of financial ruin to stay afloat.
Critic Reviews for Kids in the Hall 'Brain Candy'
Audience Reviews for Kids in the Hall 'Brain Candy'
½
Kids in the Hall: Brain Candy is the first film of the Canadian comedy troupe Kids in the hall, and it is a very funny film. I'm a huge fan of KITH and their show was the finest sketch comedy TV show that I have ever seen. How does the troupe transcends to the big screen? Well, it's not a perfect film, but the Kids in the Hall manage to keep their eccentric brand of humor in the film, which in turn makes for an entertaining film to watch for fans of the show. Brain Candy is not a comedy for everyone as it will most certainly alienate viewers. The cast here is great and the storyline is terrific for what they try to accomplish. Brain Candy is entertaining and will definitely appeal to KITH fans, but to those not familiar with the troupe, they want to pass it up as they won't find it funny. As a diehard fan of KITH and the show, I thought this was a well crafted comedy that had the traditional elements that you'd come to expect from the Kids. At times, the film could have been reworked to make it a highly memorable film, but as it is, it's funny, but it of course leaves room for improvement. I felt that Show was much better, and that the troupe put more effort into their skits than on this film. I'm not saying the film is bad, I'm just saying there is room for improvement. For what it is, it's a fun comedy worth seeing if you're a fan of the KITH, but like I said, you may want to skip it, if you're not familiar with their work. Anyone looking for a final glimpse of the troupe may want to check this one out, as their later work, would depart from what they previously did on the show and in this film.
ehh.... it aint no American pie: naked mile, dats da trufe.
Coxxie Mild Sauce
Super Reviewer
It's exactly like stummies! But it makes flipper babies. This movie was great, but after a while it got to that point where it felt like they were just making stuff to fill time.
Curtis Lilly
Super Reviewer
Kids in the Hall 'Brain Candy' Quotes
There are no approved quotes yet for this movie.