Kika
(1993)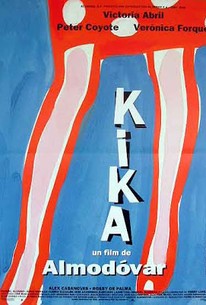 Movie Info
Spanish director Pedro Almodovar returns to his recurring framework of offbeat sexuality and death with this colorful comedy. Kika (Veronica Forque) is a Madrid makeup artist who falls in love with Ramon (Alex Casanovas), a dead man whose face Kika is hired to prepare for a funeral. Kika's attraction resurrects Ramon, and the two begin cohabiting. Kika becomes embroiled in a pair of criminal schemes, one involving her maid Juana (Rossy De Palma) and Juana's amorous, retarded brother Pablo (Santiago Lajusticia), the other involving Ramon's father, Nicholas (Peter Coyote). After Kika is raped by Pablo, she learns the incident was videotaped by Ramon, the footage ending up on a tabloid television program hosted by Andrea Scarface (Victoria Abril). Kika and Ramon split, but the latter discovers his father's complicity in the demise of his mother, leading to a violent confrontation. Because of Almodovar's humorous treatment of the film's rape, Kika was his third feature in a row that resulted in critical accusations of misogyny and exploitation. His subsequent material became more dramatic and less tinged with black humor. ~ Karl Williams, Rovi
Audience Reviews for Kika
½
Pointless. The trash being used to "make laugh". Stupid people, things and situations supposed to be funny. After half hour, I simply turned it off. What a waste of time!


Rubia Carolina
Super Reviewer
My least favourite of Almodovar?s so far, the plot seemed quite weak and there was very little excitement to it. Almodovar gave some added controversy here, by making a rape scene into a bit of a comedy moment, I would be interested to see what people?s comments are and how many will feel it reached over the controversial line?
Lady D'arbanville
Super Reviewer
Irreverent and hilarious, KIKA is Pedro Almodovar's craziest film. Back are the usual Almodovar elements: colors, dramedy, sexual deviation, murder. The film works thanks to the funny script by Pedro, and the amazing performance by Veronica Forqué as the title character. The rest of the cast is very good too: Peter Coyote, Rossy De Palma, Victoria Abril (in a marvelous role) and Àlex Casanovas.
Fernando Rafael Quintero Castañeda
Super Reviewer
Kika Quotes
There are no approved quotes yet for this movie.