Kill for Me
(2013)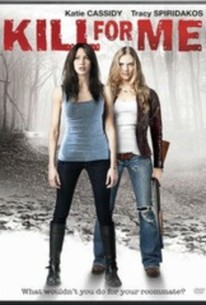 AUDIENCE SCORE
Critic Consensus: No consensus yet.
Movie Info
Two roommates with abusive men in their pasts consider murder as an option to help settle each others problems.
Critic Reviews for Kill for Me
All Critics (2) | Fresh (0) | Rotten (2)
Kill for Me throws in some gratuitous Sapphic titillation, including an obligatory make-out-in-the-shower scene, but the overwrought plotting gives the distinct impression that the filmmakers are getting steamed up over nothing.
What if you crossed "Single White Female" with "Strangers on a Train?" You'd still have a better movie than "Kill For Me."
Audience Reviews for Kill for Me
½
Decent movie. Similar story to some others, so not terribly original. The ending, however, did give it a nice twist...
Cynthia S.
Super Reviewer
½
Kill for Me was a surprisingly efficient direct to DVD thriller, with shades of Diabolique, Wild Things and Monster. The film has an old-fashioned vibe about it and took its time developing the story and its characters. At the same time it didn't reveal too much, making the film very suspenseful, mysterious and sexy. The film didn't have too much violence but when it did it was shocking enough to make you feel uneasy. With all of the lousy thrillers being released to theaters every year, Kill for Me is a breath of fresh air even though it might be too straightforward sometimes for more hardcore genre buffs. Katie Cassidy was absolutely stunning in this film; she gives her very best performance of her career so far! Katie plays Amanda, a college student who is trying to move on after her roommate and friend vanishes without a trace. Amanda is also dealing with an abusive ex-boyfriend who is now stalking her; she decides to look for a new roommate to help pay the rent. She soon meets Hailey who also is trying to movie on from an abusive and tormented past, they instantly become roommates and form a bond that leads to a sinister turn of events. Hailey is played by newcomer Tracy Spiridakos, who also stars in the series Revolution. Tracy gives a captivating performance and I couldn't keep my eyes off of her, she is a promising new talent to keep tabs on in the future. Donal Logue, who is from one of my favorite series that is now canceled, Grounded for Life, makes a surprising turn as Hailey's dad and was quite good. Director, Michael Greenspan definitely improved his game here than his last effort Wrecked, which was a very disappointing movie and was on my bottom list of 2011. His latest film Kill for Me was atmospheric, suspenseful and has a great twist ending that was satisfying for the most part. Sure the premise is nothing all that new, but the way he handle it though, made it his own effective thriller of wronged women getting revenge. The writing wasn't fantastic but it's an improvement from his last picture as it's much more coherent with Christopher Dodd teaming up with him again since working on the film Wrecked. They definitely took a step in the right direction this time around. Overall, Kill for Me is the first good thriller of 2013. It has two appealing leading ladies, brooding atmosphere, suspenseful story and a satisfying twist ending. Nothing too original here though, but still it's a well executed film. Recommended! 7 out of 10
Matt Slash
Super Reviewer
Kill for Me Quotes
There are no approved quotes yet for this movie.