Kill List
(2012)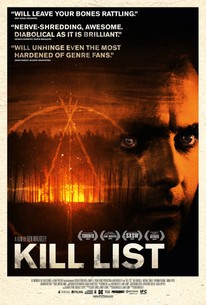 TOMATOMETER
AUDIENCE SCORE
Critic Consensus: Kill List is an expertly executed slow-burn crime thriller that thrives on tension before morphing into visceral horror.
Movie Info
From director Ben Wheatley, Kill List is a mind-blowing genre concoction being called the "#1 Horror Film of the Year" (Bloody-Disgusting). A brilliant blend of family drama, hitman action-thriller and terrifying psychological horror film, Kill List tells the story of an ex-soldier turned contract killer who is plunged into the heart of human darkness. Eight months after a disastrous hit job in Kiev left him physically and mentally scarred, Jay (Neil Maskell) is pressured by his partner Gal (Michael Smiley), into taking a new assignment. As they descend into the bizarre, disturbing world of the contract, Jay's world begins to unravel until fear and paranoia sending him reeling towards a horrifying point of no return. -- (C) IFC
News & Interviews for Kill List
Critic Reviews for Kill List
Audience Reviews for Kill List
½
A pointless and confusing mix of family drama, hitman thriller and gory horror that lacks energy, tension and is never engaging, with so many plot holes, terrible pacing and ugly jump cuts - and not even a creepy twist in the end (which makes no sense) saves it from being a bore.
Carlos Magalhães
Super Reviewer
½
"Kill List" is really a tale of two films. The first is a mysterious hitman story that grows increasingly spastic up until a violent last act twist, and the second is, from the ground up, a self indulgent experiment in manipulating an audience. The writer/ director is Ben Wheatley, and there's no doubt he has had a hell of a time toying with us. I just didn't have nearly as much fun watching it. Wheatley sets up his story as an impressively acted kitchen-sink drama. It's slow in the beginning, and does a great job establishing it's characters. I was instantly drawn to these people, especially Jay and Gal (the two leads played by Neil Maskell, a great screen presence, and Michael Smiley). We soon learn (rather vaguely) that they are Hitmen, and that Jay has been left emotionally and physically broken from the last job he pulled 8 months back in Kiev. He hasn't "worked" since, but Gal persuades him to take on a high profile job... to complete a contract that will entail clipping a Priest, a Librarian, and lastly a member of parliament. They carry out their deeds with shocking brutality, as Jay becomes increasingly unhinged. "Kill List" does a terrific job at upping the intensity at a smooth, subtle pace, and Wheatley nails the tone. Even when "Kill List" eludes that it's only a crime drama, the atmosphere is a constant whisper that something is not quite right. Through sound and nuggets of surreal Lynchianisms... "Kill List" becomes an otherworldly mystery, and we are baffled. Scenes like that of the Hit List being signed in the blood of a deep cut and Jay's visit to his family doctor are stark, disturbing reminders. But then there is the final act twist, at which point "Kill List" becomes what it was always building too; a horror film. That isn't spoiling anything though, since pretty much anything you've already read or have seen on the film has given away it's genre-bending nature. Unfortunately it's here where the film fell apart for me. The finale isn't a devious turn of events or a shocking twist, but rather something that just happens for the sake of it. The movie leading up to this freakshow was an oddity sure, but a developed one with great characters and promise. I felt cheated. "Kill List" fails as a horror movie in the end because it was only scary before it tried to be. The horror scenes are half baked and instead of going for the throat seem content playing almost as homage. "The Wicker Man," "A Serbian Film," and 28 Days Later" came instantly to mind. Did I mention it wasn't scary? Since all of this tomfoolery does away with coherence (the little there already was) and the established film that I really liked... "Kill List" stands as well made, scatter-shot nonsense that is made more frustrating because of it's expertly crafted build up. Maybe if I'd gone in blind it would have shocked and surprised me? This movie has it's admirers. I'm guessing the cat wasn't yet out of the bag.
½
What should be noted about Kill List above all else is how great the cast is. Every cast member gives a full out perfect representation of their character and the movie is better for it. Also, the direction and writing is solid. This isn't a typical hit man story that moves quickly and is overly obsessed with keeping the audience engaged. It's slow moving, patient, and when the pay off finally does come; it's shocking. Kill List was a movie I was very excited to watch. I had heard good things about it, but knew very little about the story going into it.  An out of work hit man and his friend take a job. Their job is to kill three men, and what starts off as just another standard job turns quickly. That's as much as I'll say about the plot because I truly believe that this is one of those movies where the less you know, the better.  I didn't quite love this as much as I expected to after the first half hour or so, but it was nonetheless a well made, atmospheric, engaging film with terrific performances and great, timely shifts in the plot. It's well worth a look and I think with another viewing, I'll like this even more than I did the first time around.
Melvin White
Super Reviewer