Kill the Irishman
(2011)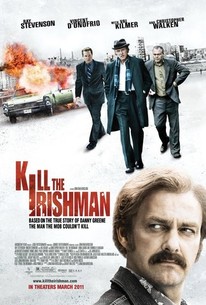 TOMATOMETER
AUDIENCE SCORE
Critic Consensus: Kill the Irishman may not add much in the way of new ingredients to its crowded genre, but the admirable efforts of a solidly assembled cast add extra depth to a familiar story.
Movie Info
Over the summer of 1976, thirty-six bombs detonate in the heart of Cleveland while a turf war raged between Irish mobster Danny Greene (Ray Stevenson) and the Italian mafia. Based on a true story, KILL THE IRISHMAN chronicles Greene's heroic rise from a tough Cleveland neighborhood to become an enforcer in the local mob. Turning the tables on loan shark Shondor Birns (Christopher Walken) and allying himself with gangster John Nardi (Vincent D'Onofrio), Greene stops taking orders from the mafia and pursues his own power. Surviving countless assassination attempts from the mob and killing off anyone who went after him in retaliation, Danny Greene's infamous invincibility and notorious fearlessness eventually led to the collapse of mafia syndicates across the U.S. and also earned him the status of the man the mob couldn't kill. Written and directed by Jonathan Hensleigh and also starring Val Kilmer, Paul Sorvino and Linda Cardellini, KILL THE IRISHMAN is inspired by Rick Porello's true crime account "To Kill The Irishman: The War That Crippled The Mafia." -- (C) Anchor Bay
Critic Reviews for Kill the Irishman
Audience Reviews for Kill the Irishman
There isn't a single frame in "Kill the Irishman" that is of any originality, and I truly mean that. The dialogue is flat, the direction and cinematography are uninspired, and almost every character is some sort of mob-movie stereotype. The structure and narration (from Val Kilmer; who's character has little reason to exist) have been employed for the soul purpose of drawing comparisons to other, mostly superior movies. Even the score plays as self parody, inducing unintentional chuckles during what are supposed to be dramatic scenes. But even with all that is mind, "Kill the Irishman" is still a highly entertaining gangster story that benefits from it's fact-based narrative and the highly underrated charisma of Ray Stevenson in the lead. This is all really derivative, but nevertheless well staged, well performed and it gets better as it moves along. Enjoyable fluff for a rainy day.
Really good drama that brought twists, turns and suspense to a real life gangster story. The suspense of the story line is taunt with superb acting, and a tight script. Ray Stevenson was wonderful in this, and was well supported by a host of very familiar faces...even Christopher Walken. Good job!
Cynthia S.
Super Reviewer
½
Excellent movie about Danny Green and the Cleveland Mafia during the seventies. Lots of action will keep you interested all 1hr and 46 minutes. 4 1/2 Stars 3-1-13
Bruce Bruce
Super Reviewer
Kill the Irishman Quotes
| | |
| --- | --- |
| Danny Greene: | Is that all you got? Gonna take more than a few firecrackers, to kill DANNY GREENE!!! |
| Danny Greene: | Is that all you got? Gonna take more than a few firecrackers, to kill DANNY GREENE! |
| | |
| --- | --- |
| Joe Manditski: | You think the luck of the Irish is gonna save you |
| Joe Manditski: | You really think the luck of the Irish is going to save you? |
| | |
| --- | --- |
| Joe Manditski: | ...I'll cut your fuckin heart out with a rusty butter knife and eat it while it's still beating. |
| Joe Manditski: | I will cut your fucking heart out with a rusty butter knife and eat it while it's still beating. |
| | |
| --- | --- |
| Danny Greene: | How did the entire Polish firing squad die? They stood in a circle. |