Kill the Messenger
(2014)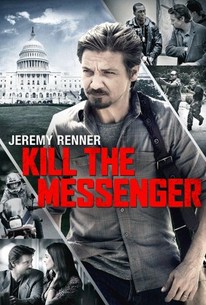 TOMATOMETER
AUDIENCE SCORE
Critic Consensus: Kill the Messenger's potent fury over the tale of its real-life subject overrides its factual inaccuracies and occasional narrative stumbles.
Kill the Messenger Videos
Kill the Messenger Photos
Movie Info
Two-time Academy Award nominee Jeremy Renner ("The Bourne Legacy") leads an all-star cast in a dramatic thriller based on the remarkable true story of Pulitzer Prize-winning journalist Gary Webb. Webb stumbles onto a story which leads to the shady origins of the men who started the crack epidemic on the nation's streets...and further alleges that the CIA was aware of major dealers who were smuggling cocaine into the U.S., and using the profits to arm rebels fighting in Nicaragua. Despite warnings from drug kingpins and CIA operatives to stop his investigation, Webb keeps digging to uncover a conspiracy with explosive implications. His journey takes him from the prisons of California to the villages of Nicaragua to the highest corridors of power in Washington, D.C. - and draws the kind of attention that threatens not just his career, but his family and his life. (c) Focus
News & Interviews for Kill the Messenger
Critic Reviews for Kill the Messenger
Audience Reviews for Kill the Messenger
Kill The Messenger is an intelligent investigative drama that will have you hooked from the start. Gary Webb, a journalist for a smallish news agency, stumbles upon a story which proves the CIA used cocaine profits from Central American drug smugglers to fund the Contra rebels. Never heard about it? Me neither, and in fact when the full report was published it was pushed aside by a scandal involving Bill Clinton. So, nearly a decade later, it's time to explore this intriguing story and fortunately this film is absolutely compelling. Yes, the film is about the CIA's involvement in Nicaragua, but beneath this is an individual who only desires to report the truth. Investigating a story with this much classification and secrecy results in the possibility of endangering both your career and family. But the biggest detriment, is to yourself. We see Gary Webb slowly degrade as the investigation takes its toll on him, he gradually becomes a broken man so transfixed on this job that he risks losing everything else. I found it to be utterly heartbreaking, yet rather relatable. This drama didn't need to include any thrills or chase sequences (in the fear that it becomes an action film), and yet director Michael Cuesta was bold enough to incorporate these tense pursuits. They worked. I was on edge. Why? Because Gary Webb was a well developed character. I felt for him and wanted him to succeed. This, for me, is Jeremy Renner's best performance. Forget about the supporting cast, this was his for the taking and he owned it. Emotional, physical and charismatic. Should've been nominated for more awards. The first half was a slow burner, but it picked up pace as soon as the story was established. The supporting cast were wasted, Winstead was probably the best out of them all but still underused. But due to a powerful central performance, this film was elevated to an enthralling level of intrigue. Oh, and the final screen texts detailing the aftermath? It crushed me inside. Gutted.
Luke Andrews
Super Reviewer
½
After an engaging first half that trusts our ability to put together the details of this whole affair as we follow its character, this strong political drama is sadly weakened by some annoying clichés, including that of him becoming an "obsessed man who moves away from his family."
Carlos Magalhães
Super Reviewer
Could have been far better had they focused more on the investigative journalism than Webb's family life. It sort of distracts when it turns from a taut thriller to a humdrum family drama. Agreed that some footage ought to be given to that part, but it should have been quite limited. Maybe here too, the editor is to be blamed!!
familiar stranger
Super Reviewer
Kill the Messenger Quotes
There are no approved quotes yet for this movie.