Killdozer
(1974)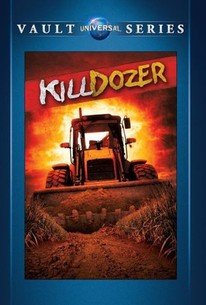 AUDIENCE SCORE
Critic Consensus: No consensus yet.
Movie Info
A bulldozer taken over by aliens attacks the crew at a construction sight in this horror thriller.
Critic Reviews for Killdozer
All Critics (1) | Fresh (0) | Rotten (1)
If you can sidestep such questions as "Why doesn't he just step behind the 'dozer rather than remain directly in its path?," then you're good to go.
Audience Reviews for Killdozer
Mediocre Sci Fi horror flick about a killer bulldozer powered by the energy of a meteor. I was very much looking forward to seeing this film. Killdozer navigates the same territory as other killer vehicle films. This film nonetheless has an interesting concept, but is complemented by mediocre that just doesn't elevate the film's potential. The actors here seem bored and don't care about the film material. The script itself suffers from a lack of poor writing. Although never very bad, Killdozer is great either and the plot seems lifted from many other genre films. This film could have been great, but instead it just falls flat due to poor directing, and in turn the film just ends up being boring. Director Jerry London seems bored at directing, and doesn't pull off anything consistent, with substance to make this film worth seeing. Duel was a far superior film that had tension, atmosphere and was a fine psychological horror/ road rage film. This film just doesn't possess those qualities that made that film memorable. The script is underdeveloped and it ends up being not that entertaining. Even with its short run time, this film feels longer than it is, and it just seems to drag on with nothing truly interesting happening on-screen. If more effort would have been put into its plot, and acting, Killdozer could have been a far better film than what it turned out to be. As a whole this is a mediocre film with nothing really interesting to entertain its viewer.
Killdozer Quotes
There are no approved quotes yet for this movie.