Killer Elite
(2011)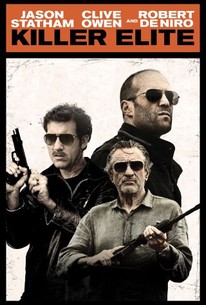 Movie Info
A match-up made in tough-guy heaven -- Jason Statham, Clive Owen and Robert De Niro star in Killer Elite. Based on a shocking true story, Killer Elite pits two of the world's most elite operatives - Danny, an ex-special ops agent (Jason Statham) and Hunter, his longtime mentor (Robert De Niro) - against the cunning leader of a secret military society (Clive Owen). Covering the globe from Australia to Paris, London and the Middle East, Danny and Hunter are plunged into a highly dangerous game of cat and mouse - where the predators become the prey. -- (C) Open Road Films
News & Interviews for Killer Elite
Critic Reviews for Killer Elite
Audience Reviews for Killer Elite
½
'This is the best special forces unit in the world, they make the Navy Seals look like a bunch of cupcakes' Possibly the best line of the film or any film for some time. Based on a controversial novel by Sir Ranulph Fiennes called 'The Feather Men' this is a ripping story based on assassins and major undercover ops within the British Empire surrounding our Special Air Service unit. What makes this so intriguing is the fact its supposed to based on or around fact and the author, Fiennes, was actually one SAS serviceman almost killed. Whether this is all accurate or exaggerated is questionable but makes for a great film. Of course the Ministry of Defence denies all actions undertaken within the book, naturally, but the events all surrounding the control of oil in the Oman area is highly possible and the British Empire are highly skilled at cover ups and keeping things hush hush. What is surprising is the use of SAS servicemen for the fall seeing as they are the best of the best are most definitely not disposable. As for this film I can't quite understand why it has received such negative reviews, it has excellent action, stealth, espionage of sorts and has the 80's recreated very well. The title doesn't help of course, to read it you'd think its some kind of blistering non-stop explosion filled gun fest much like 'The Expendables'. With the casting of Statham I can also understand the confusion with this notion as he's not exactly a subtle actor for a sensible film. The fact is there is really a very very good espionage thriller here...underneath the dreadful fact Statham has been miscast. Obviously this is to give the film a much bigger impact and attract more of an audience with the action man vibe. Unfortunately this gives the film a completely upside down outlook and messes up a possibly intelligent film. Everyone else in the film is cast well and makes for a sensible exciting thrilling ride. Alas Statham brings his typical kind of dumb invincible super soldier theme into the mix which takes most of the believability away sadly. Think 'The Bourne Identity' but with Statham as the lead but also add in a hint of 'Ronin' (a better film I might add). Its still a fun film with great set pieces, hard to believe its all fact I must admit. I haven't read the novel so I can't compare but its hard to think a few mercs could take down experienced SAS servicemen. I wonder if Fiennes likes this Statham vehicle adaptation, decent enough but a missed chance for a real classic.
Phil Hubbs
Super Reviewer
Some exciting bits and a superficially intriguing plot, complemented by passable acting from Statham and Owen (not to mention De Niro, on his way into the sunset), but about halfway through I just got bored. It had what appeared to be a fine ending around the 1:15 mark - might have left some plot holes, but I was ready for it to end - after which it continued wending its way toward a nearly two-hour runtime. Good effort, pleasing to watch, but in all it's the epitome of mediocrity.
Daniel Perry
Super Reviewer
½
A retired black ops killer for hire is pulled back into the business when his friend is held hostage by an oil sheikh seeking retribution against the SAS for assassinating his sons. On the surface of it, Killer Elite is very much an example of business as usual for Jason Statham in what appears to be just another bone-headed but watchably efficient, testosterone-fuelled action thriller. What marks it out from the majority of Statham's action canon is the above par cast and the fact that the implausible plot is actually based on true events. This fact gives the film more credibility than it would have and as so becomes far more interesting. The result is kind of like The Bank Job meets Mission Impossible and thanks to the strong action sequences and watchable stars it's strangely compelling despite some dubious casting decisions. Undeserving of the critical savaging it suffered on its release, Killer Elite should satisfy action junkies and those looking for a more off-beat political thriller both.
Killer Elite Quotes
| | |
| --- | --- |
| Hunter: | You never got me down, Ray. You never got me down. |
| | |
| --- | --- |
| Davies: | Show me a good looking woman and I'll show you a man that's sick of her shit... |
| | |
| --- | --- |
| Spike: | This ends Today.... |
| Spike: | This ends today. |
| | |
| --- | --- |
| Danny Bryce: | You and I got a lot in common. |