The Killer Is Loose
(1956)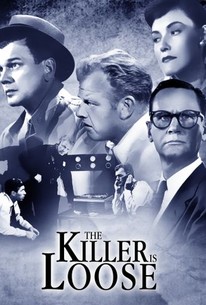 Movie Info
In this crime drama, "Foggy" is a bank teller who is the inside man for a gang of thieves planning to rob his bank. Unfortunately, their plan goes awry and he is arrested. During the ensuing scuffle, his wife is accidentally killed and Foggy hungers for revenge.
Critic Reviews for The Killer Is Loose
Audience Reviews for The Killer Is Loose
½
"The Killer Is Loose" is a watchable police yarn that ultimately suffers from an incompetent final act and a short running time that allows us little interaction with the characters. The performances are all fine, but the action is the kind of stuff you've seen a thousand times before. Still, it works as a great time-passer.
Stephen Earnest
Super Reviewer
½
Decently acted little noir. Wendell Corey didn't have the magnetism to make it as a lead but he was always an excellent supporting player whether he was playing the dark or the light, he's most effective here as the villiain.The story is a straightforward crime drama with no extra frills done on a small budget which is perfect for noir anyway. A feast for any old time movie and TV buff what with the Skipper, Mrs. Olsen and Dr. Steve Hardy from General Hospital all in the same film.
good stuff. escaped psycho gunning for a policeman's wife. really tense and well directed
Stella Dallas
Super Reviewer
The Killer Is Loose Quotes
There are no approved quotes yet for this movie.