Killer Nun (Suor Omicidi)
(1982)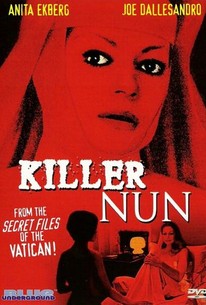 AUDIENCE SCORE
Critic Consensus: No consensus yet.
Killer Nun (Suor Omicidi) Photos
Movie Info
Giulio Berruti's unusual cult horror film casts former sex symbol Anita Ekberg as Sister Gertrude, a nun working in a mental institution. Gertrude is clearly insane, and takes a great deal of morphine for her self-diagnosed cancer. She goes to town and picks up men, seduces a younger nun (Paola Morra) who was abused by her grandfather, and supposedly murders patients until the Mother Superior (Alida Valli) has her poisoned. Luigi Casellato appears as a crippled painter who gets kicked to death, and genre favorite Joe Dallesandro leads the supporting cast as a handsome doctor. Antonio Maccoppi's skillful cinematography gives the film a harsh, intimidating look and Ekberg creates a sympathetic character, although certain scenes -- such as her stepping on a patient's dentures -- cross the line into unintentional humor.
Critic Reviews for Killer Nun (Suor Omicidi)
All Critics (3) | Fresh (2) | Rotten (1) | DVD (4)
Killer Nun remains unexpectedly gleeful thanks to its selective sashays into gore and/or sexy times, but it's a priceless Ekberg as the wide-eyed, heavily mascara-ed Gertrude in dubbed English which makes the film a perennial B-movie classic.
Anita Ekberg screws the scenery in this wonderfully tasteless shocker.
There's a tad of the tawdry, but not enough to satisfy fans of the nunsploitation genre.
Audience Reviews for Killer Nun (Suor Omicidi)
A nun named Gertrude recently had a neurosurgery as well as morphine addiction and promiscuity became in charge of a rest home for the elderly. Gruesome deaths started to occur to the deviant elderly population, is Gertrude crazy or is someone trying to set her up? Better than I expected, the violence and gore were rather flimsy looking but it was certainly fun to watch Ekberg descend into madness. Dellasandro had a role as well to make the film more watchable. The ending was rather predictable but nevertheless a stylish direction can still save nunexploitation like this.
Sylvester Kuo
Super Reviewer
Pretty good Italian horror flick that some have called "nunsploitation" a subgenre of exploitation cinema. Based on real accounts, this film surrounds on a nun named Sister Gertrude who commits acts of violence against patients in an elderly hospital where she works. Played well by Anita Ekberg, Sister Gertrude is a chilling character. Killer Nun is not a film for everyone. Killer Nun for me anyways is a different type of Italian horror flick. I thought that this was a good film, and that Anita Ekberg was good in her role as the psychotic Sister Gertrude. If you're new to Italian horror, you'll probably be weirded out by this film. Italians are strong on sexual content, graphic violence and Killer Nun is no exception. This film will thrill diehard fans of Italian horror cinema. There's definitely some chilling elements that make this film memorable. Based on real events, Killer Nun is a good little flick, however this is not one of the better exploitation style horror flicks that I've seen. The film is good, but in the end, I don't think it stands out among others in the genre. This is still an unsettling film that will make you feel uneasy. Killer Nun is a good flick, but like I previously stated, is not as memorable, but is still worth seeing if you're a fan of Italian horror, your surely going to enjoy this one. This is a good portrait of a psycho killer nun and is quite different, but as a whole it does leave a lot to be desired.
Far better than I remember thinking on my first viewing but that was a while ago and now I think of it one of my first in this field. Probably not a good one to encounter first because it really is such a strange one. Pretty surreal with nuns drifting down corridors, gowns splayed out behind and the dreams, imaginings and nightmares punctuated with goring killings and lusty couplings. Ekberg is fine but so is everybody and they all play weird so that this also helps to give the film an unreal feel even though it is firmly set in a convent and supposedly based upon a true case. A stand out moment is the crushing underfoot of the poor old lady diner's false teeth, as we cut from the vicious trampling to the squirming old lady, hands to her mouth. Music is pleasant enough and effective if a little derivative and if Dallesandro seems the most normal person on the screen that just goes to show something about this true one off.
Cassandra Maples
Super Reviewer
Killer Nun (Suor Omicidi) Quotes
There are no approved quotes yet for this movie.