Killer of Sheep
(2007)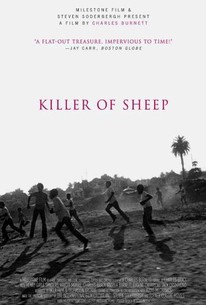 Movie Info
Set in the Watts area of Los Angeles, a slaughterhouse worker must suspend his emotions to continue working at a job he finds repugnant, and then he finds he has little sensitivity for the family he works so hard to support.
News & Interviews for Killer of Sheep
Critic Reviews for Killer of Sheep
Audience Reviews for Killer of Sheep
Charles Burnett's "Kiiler Of Sheep" slid into the world between two popular waves of Black American cinema,the "blaxploitation" period of the early to mid-1970's,and the Spike Lee-led charge of revitalization of the Black Cinema renaissance during the 1980's and 1990's,"Killer of Sheep" fits in neither camp,being both daring and more quietly revolutionary than anything before those era,and it is one of those quality heartwarming black dramas of the 1970's right up there with "Sounder"(1972),and "Claudine"(1974),not to mention another heartwarming black family drama "Cornbread,Earl and Me"(1975). Writer-Producer-Director Burnett anchored his exploration of black American,inner-city life on the story of Stan(Henry G. Sanders),a quiet,unexceptional man who works in a slaughterhouse to support his young family. They live in present day,circa 1977, Watts, California which is a section of South Central Los Angeles, when urban struggle wasn't yet synonymous with the soul-crushing despair of drugs,drive-by shootings,and a unbreakable cycle of poverty. Although the bloody,backbreaking work that Stan does is what gives the film its title(a title that honors the fact the he does an honest day's work without complaint)the real thrust of the picture is in it's nostalgia for a kind of innocent that was already fading by the time the film was made in 1977,at the height of the blaxploitation era(which this film is nowhere in between that). in which in the celebration of it's characters. Scenes of children playing in worn-down front yards,making toys or finding any object whenever they can;a picnic is planned,and the plan goes astray on real-life terms;Stan crawls underneath a kitchen sink to fix a broken pipe while the camera lingers on his soft,curled body, In all,"Killer of Sheep" sounds so unremarkable,but its simplicity that the film gives throughout. Filmed on location in South Central Los Angeles in the section of Watts,and shot on a low budget in black and white and was released through an small independent company upon its release in 1977,"Killer of Sheep" is astounding for being one of the few American films in which black characters are not metaphors for something or someone else. They're not simply variation of stereotype,or merely passive victims of or snarling reactors to racism,class struggle,or the crush of American life. Burnett's camera pierces behind facades and public personas of American black ness to show the human beings beneath them, He paces the film leisurely so that we linger on faces and expressions. He captures imtimacy-between husband and wife,parent and child,and friends-with a documentarian's skill,so we feel as if we are privy to secrets,to sides of a black self that are not often displayed in cinema. And these sides are not often displayed. So much film that is about African-Americans is filtered through both a horrible real life history and an insidiously racist film industry that what is produced more often than not is ciphers with attitude who swagger,make wisecracks, and gun blast(or murder)through one contrived scene after another(and the industry stills act this way even today). At a running time of 83 minutes in length,Burnett shows the pace of the film,peels back layers,creates settings that are purposefully banal,and illuminates the spirit behind the flesh and bone, He doesn't try to dazzle you or overwhelm the viewer,but he gives you a chance to question all that you have seen or heard about blackness and the African-American experience that forces you to see and hear a new perspective on this in a whole new light.
Mister Caple
Super Reviewer
½
If you're looking for a plot with a beginning, a middle and an end, or characters that 'arc' and 'evolve' then you're better off renting Peter Jackson's Lord of the Rings than Charles Burnett's artistically disjointed Killer of Sheep. It plays like a student film because that's exactly what it is. (Burnett submitted it as his master's thesis while attending the School of Film at UCLA.) This 70's depiction of life in the black ghetto of Watts is surprisingly reminiscent of earlier French new-wave films while still being unquestionably American in content. Its easy to see how Burnett's honest style later influenced black film makers like Spike Lee and John Singleton
Randy Tippy
Super Reviewer
This movie is the exact opposite of that bullshit excuse of a movie called The Fist Foot Way. Plus, that movie had more money to work with and still couldn't touch what they did with this film. (By the way, I found out FFW was shot on film which makes it even more depressing). Burnett puts together some beautiful vignettes here. Sure, there is some acting that is suspect, but none of the non-professionals are annoying, in fact, one of the kids gives one of the most natural performances I have seen in a long time. This is a film that represents what independent film should be about. Not the Sundance, IFC channel, my father is a transexual and fighting in the war in Iraq which he totally disagrees with type indie. This is a film made for $10,000 and stands up against shit that was made for a hundred times more.
Killer of Sheep Quotes
There are no approved quotes yet for this movie.