The Killer Shrews
(1959)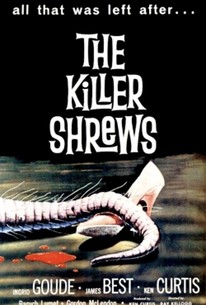 Movie Info
A scientific experiment on a small island off the coast of Texas goes horribly wrong and transforms a group of mild-mannered shrews into horrific, gigantic, killer beasts. This campy, low-budget thriller follows the effort of the island's population to defeat the beasts and ensure their own survival.
Critic Reviews for The Killer Shrews
Audience Reviews for The Killer Shrews
½
When I was younger this was the stuff of nightmares: large rats chewing through the walls to get at you, but now the stilted acting, dull direction, and so-so writing are all too apparent. I still think the idea is good, workable, but the piece could use a larger investment of energy. As it is you'll be angry at the stupidity of the characters, the choices they make, and finally yourself for investing in this.
Kevin M. Williams
Super Reviewer
Why are the actors standing around talking and drinking for almost all of this movie? The ending has some exciting moments, but they're kinda crazy too. This is a pretty bad excuse for a film.
Boring, horrible acting and a highly implausible storyline make this truly a bottom-of-the-barrel piece of trash. Nothing at all good about this film except that it's not much more than an hour so the pain doesn't last too terribly long.
Derek Daniels
Super Reviewer
The Killer Shrews Quotes
There are no approved quotes yet for this movie.