Killer Tomatoes Strike Back
(1991)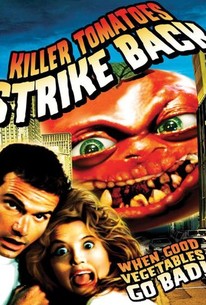 AUDIENCE SCORE
Critic Consensus: No consensus yet.
Movie Info
This third entry in the dumbfoundingly silly "Killer Tomatoes" series continues the low-budget franchise's tradition of bombarding audiences with endless inane sight gags, horror movie in-jokes, and "nudge-nudge, wink-wink" comic asides. This installment finds flamboyant mad scientist Professor Gangrene (an enthusiastically hammy John Astin) up to his old tricks. The madman responsible for the near-annihilation of humanity by the title fruit, Gangrene is currently masquerading as the host of trashy talk show "Talk of the Town," through which he mounts a temporarily successful media campaign restoring the red-stained reputation of the much-maligned tomato. Fortunately for an unwary populace, the professor's plot for world domination is foiled by hard-bitten detective Boyle (Rick Rockwell) and eminent "tomatologist" Dr. Kennedy Johnson (Crystal Carson). Though not as funny as the previous installment, Return of the Killer Tomatoes (which featured a young George Clooney in deadpan mode), this is still a mildly entertaining romp. The pulpy red menace would soon return for yet another sequel, but not before inspiring a silly animated kiddie-TV spinoff. ~ Cavett Binion, Rovi
Critic Reviews for Killer Tomatoes Strike Back
There are no critic reviews yet for Killer Tomatoes Strike Back. Keep checking Rotten Tomatoes for updates!
Audience Reviews for Killer Tomatoes Strike Back
Dull, unimpressive third entry in the Killer Tomatoes series. Along with the fourth film, this entry is the worst of the bunch. For me, The Killer Tomatoes should have had only one sequel, but like every greedy Filmmaker/studio executive out there they decided to create yet another sequel to make more money. The result is an utter mess of a film. This film doesn't do anything interesting. All the ideas have been before, and for what it is, the film fails to have the same impact that the first two films had. In my opinion, the Killer Tomatoes films should only have been two films. By this third entry, the filmmakers were recycling the formula they used in the two previous films. Only now this film along with the final entry rely on the previous two films to try and create a new direction for this series. The only problem is, is that the film just isn't fun anymore. This series tired, uninspired and just uses old ideas that were fun for two films, but by the third film wasn't interesting anymore. I very much enjoyed the first two films, thought they were hilarious comedy horror films that spoofed monster flicks perfectly. With this third entry, they basically repeat everything we've seen before, with no hint of new or interesting ideas that will appeal to fans of the first two films. What we have here is simply a bad film that should have ended after the second film. This film could have been a good, cheesy B movie like the others, unfortunately it doesn't do anything to peak your interest.
Killer Tomatoes? I remember I LOL when hearing the Movie title for the first time. Poor Idea.
½
Absolutely brilliant schlock horror stupidity.......do not take it seriously and you'll love it.
Barry Lappin
Super Reviewer
Killer Tomatoes Strike Back Quotes
There are no approved quotes yet for this movie.