Killer's Kiss
(1955)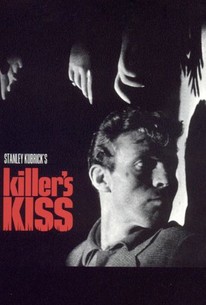 Movie Info
Stanley Kubrick's second film, Killer's Kiss was summed up by one influential critic as an experiment in esoterica. Filmed on a budget of $40,000 (raised by Kubrick's relatives), the 65-minute, black-and-white drama is a true "noir" film, shot mostly at night in a variety of seedy Manhattan locations. The plot concerns the efforts of boxer Jamie Smith (who also narrates the film) to rescue nightclub dancer Irene Kane from the lecherous maneuvers of club owner Frank Silvera. The much-admired climax finds Smith, Silvera, and the villain's henchmen pursuing each other in a warehouse filled with grotesque-looking store mannequins. Director-writer-photographer-editor Kubrick didn't like the happy ending imposed on the film by its distributor (United Artists), but it was a lot more logical and satisfying than the filmmaker's own planned denouement. The imperiled leading lady Irene Kane later became famous as TV commentator and journalist Chris Chase; also appearing in the film is Kubrick's then-wife Ruth Sobotka.
Critic Reviews for Killer's Kiss
Audience Reviews for Killer's Kiss
½
Kubrick's second feature, and first noir, is a thrill to watch, if only to see the seeds of a budding legend be sown in front of your very eyes. Without exaggeration, Killer's Kiss features some of the best deep focus long shots I have ever seen, and the visual sophistication Kubrick employs (with a keen emphasis on motif, symbolism and mood lighting) demonstrates that even early on, he was worlds ahead of many of his colleagues in terms of directorial aptitude and his command of cinematic language. No one shot is the same, no one angle is replicated. Unfortunately, the scant running time inhibits any real chance at character development (or narrative development, for that matter) but that's okay -- there's more than enough to marvel at.
Jonathan Hutchings
Super Reviewer
½
Vincent Rapallo: Like the man said, "Can happiness buy money?"  "Her Soft Mouth Was the Road to Sin-Smeared Violence!" I found Stanley Kubrick's second directorial effort, Killer's Kiss, to be a pretty solid film. I enjoyed watching this early work from Kubrick. It was good and you can see some of his techniques when it comes to camera work, but that's about the only thing that makes it seem like a Kubrick film. Obviously it was made on a small budget with a no name cast, who I thought was actually decent, and all in all it turned out to be a entertaining film. It's just crazy and cool to think about how Kubrick went from this little, low-budget, hour long romance thriller to films like 2001 and The Shining.  To the world of Kubrick fans, this is kind of considered his first true film, despite the fact that he made Fear and Desire. Kubrick, himself, hated that film and didn't even want people to see it.  There's cool little sequences in this movie, such as the final fight scene that basically mirrors the boxing match. There's a little hint of what is to come from Kubrick. His great foreshadowing was on display here in an early work. The music seems like it belongs anywhere else as long as that place isn't a Kubrick film. This is the only film from him where I didn't particularly care for the score. This movie is cool in that it shows the start of an immense talent. It shows a starting point for what would become one of the, if not the, greatest directors of all-time. It's cool to see that he always had an eye for cool shots and how to make a scene awesome visually even without a big budget, cool effects and huge set pieces. If you are a fan of Stanley Kubrick, you need to see this movie.
Melvin White
Super Reviewer
½
I was really taken aback by "Killer's Kiss;" Stanley Kubrick's ultra-independent second feature. This film is just so obscure, compelling and visceral. The cinematography, by Kubrick himself (he also edited, directed, wrote and produced) is stunning. The film has such an urgent time and place and New York City literally intrudes, seeps into, every frame. Because of this, the film has an energy and uncanny (sort of) cohesion. The film can be spare and abstract but it's fun to see Kubrick working in these perameters, or lack there of. "Killer's Kiss" is chock full is surreal, compelling imagery that stands alongside Jean-Luc Godard and even David Lynch at times.
Steven Carrier
Super Reviewer
Killer's Kiss Quotes
There are no approved quotes yet for this movie.