The Killing of a Chinese Bookie
(1976)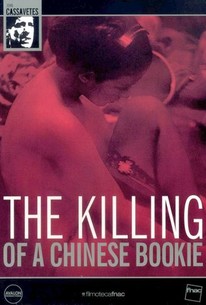 TOMATOMETER
AUDIENCE SCORE
Critic Consensus: Ben Gazzarra gives a grand performance as a hard-pressed debtor with delusions of grandeur in this naturalistic and tense thriller.
The Killing of a Chinese Bookie Photos
Movie Info
John Cassavetes takes a contemporary film noir turn (which he would return to in Gloria) after exploring domestic melodrama in A Woman Under the Influence with The Killing of a Chinese Bookie. Ben Gazzara plays Cosmo Vitelli, the owner of a sleazy Los Angeles strip joint, who loses $20,000 at a mob gambling club owned by a small time gangster (Seymour Cassel). Since Cosmo doesn't have the $20,000, he is forced to murder a Chinese bookie in order to clear his debt to the mob. What Cosmo doesn't know is he's part of a set-up. The bookie is actually a West Coast mob boss protected around the clock by bodyguards. The mobsters figure that Cosmo will be killed in an impossible hit and they can take over his nightclub. But Cosmo proves luckier than the mobsters think -- he manages to kill his target, and now the mobsters have to track down Cosmo and kill him. Initially, at 133 minutes, the movie was subsequently re-edited by Cassavetes to 109 minutes. ~ Paul Brenner, Rovi
Critic Reviews for The Killing of a Chinese Bookie
Audience Reviews for The Killing of a Chinese Bookie
An offbeat but unique take on the noir genre keys that might seem to go nowhere most of the time and yet brings some freshness and bravado.
Pierluigi Puccini
Super Reviewer
½
Gazzara is amazing. But the real star is Cassavete's direction. The way this film slowly transforms is amazing.
Graham Jones
Super Reviewer
Cosmo Vitelli is the owner of a strip club on the sunset strip in Los Angeles, and his business is slow. He's an ex-New Yorker who's re-located to L.A. and is trying to be a big shot, only he doesn't seem to get much respect, but boy, there sure is an air of impending doom surrounding the guy. He goes to the casino of a fellow club owner and tries to be a bigshot in front of his girls, but winds up with a $23,000 debt to what is clearly a mob family. In order to forgive his debt, they want him to kill a chinese bookie they claim owes them money. All is not as it seems to be though, neither with the set-up nor Cosmo Vitelli himself. The film itself isn't directed in a very accessible way, there's lots of random close-ups and off camera dialogue, but it is engrossing (it seems to slightly imitate the Scorsese style, and not just because of the gangster element). Anyway, since when does art always have to be assessible? The soundtrack is near barren, almost the only time music is heard is when the characters on the screen are hearing it. All Cosmo wants to do is run his nightclub and it seems he'll do anything to keep things normal. Perhaps even something crazy as he may be crazier than he let's on. There's more to this low budget crime drama than suspected at first as well.
Devon Bott
Super Reviewer
The Killing of a Chinese Bookie Quotes
There are no approved quotes yet for this movie.