Kin
(2018)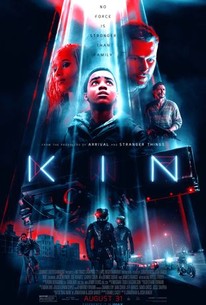 TOMATOMETER
AUDIENCE SCORE
Critic Consensus: Part family drama, part sci-fi adventure, Kin struggles to balance its narrative until a late twist that suggests it all might have worked better as the first episode of a TV series.
Movie Info
KIN, a pulse-pounding crime thriller with a sci-fi twist, is the story of an unexpected hero destined for greatness. Chased by a vengeful criminal (James Franco), the feds and a gang of otherworldly soldiers,​ a recently released ex-con (Jack Reynor) and his adopted teenage brother (Myles Truitt) are forced to go on the run with a weapon of mysterious origin as their only protection.
News & Interviews for Kin
Audience Reviews for Kin
How does a film possess so much style and charm, but feel as if it accomplishes very little? This is kind of the crux of the issue with Jonathan and Josh Baker's feature directorial debut, "KIN", as the aesthetic of it all is in line precisely with what it seems the brother directing duo were going for whereas the narrative weight is lost somewhere between the multiple genres it's melding together. In terms of the viewing experience this can be boiled down to caring about the characters more than we do the adventure they go on. Myles Truitt's Elijah has been adopted into the Solinski clan, but whose present situation sees him being raised by Dennis Quaid's Hal as Hal's wife has passed and Eli's older brother, Jimmy (Jack Reynor), has been in prison for six years. At the outset, Jimmy is released and quickly finds himself in trouble with a local arms dealer (James Franco). Reynor's Jimmy is a stupid character and about as grown as Eli, but it becomes the two of them on the run together away from Quaid's welcome surprise of a turn in which he feels more raw forcing Jimmy to mature. The two meet Zoë Kravitz's Milly along the way, her presence only guiding Jimmy in the difficult, but right direction he must come to terms with. This arc for Jimmy naturally provokes development in Eli as well given both are harboring secrets from one another. The family drama combined with the on-the-run narrative is underscored by this discovery of an alien weapon that doesn't necessarily factor into the plot as much as one might initially think, but as Jimmy's lies and betrayal grow bigger and more hurtful the aliens chasing after their weapon and therefore after Eli grow closer and seemingly angrier making the inevitable climax impossible to fumble . "KIN" is an entertaining movie in almost every regard and I imagine if you're of a certain age when first experiencing it that it could become something of a cornerstone of your youth-it's harsh and grounded without being ugly-but as someone who is seeing this in their thirties and have felt like they've seen a million different variations on this story a slightly entertaining ride and solid characters only get you so far. Still, there are worse ways to spend an afternoon at the cinema.
Philip Price
Super Reviewer
Kin Quotes
There are no approved quotes yet for this movie.