A King in New York
(1957)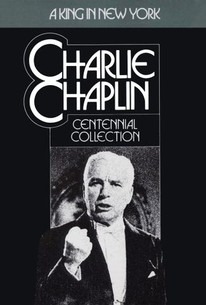 A King in New York Photos
Movie Info
Charles Chaplin's response to America during the McCarthy Era stars the writer-director as a deposed European monarch who immigrates to the U.S. to start anew.
Critic Reviews for A King in New York
Audience Reviews for A King in New York
½
A satisfying though uneven Chaplin comedy clearly envisaged as a criticism on the American society and the absurdity of McCarthyism. There are some memorable scenes, including a hilarious surprise dinner, but also just as many less successful ones.
Carlos Magalhães
Super Reviewer
Charlie Chaplin's last starring role was a perfect vehicle, drawing on both his intercontinental charm and his nagging troubles with United States immigration. Far from a success, the film wasn't even distributed in the States until 1967. Chaplin (now white-haired but impressively spry) plays King Shahdov, the deposed monarch of a fictional European country. He flees to New York and takes up residence in a posh hotel, but finds himself broke after his prime minister betrays him and steals the royal treasury. A beautiful lass (Dawn Addams) cons the needy king into entering the advertising world, with amusing results. He becomes an inept pitchman and media celebrity, dodging fans and reporters just like today's royals. Later, Shahdov befriends a precocious boy (Chaplin's real-life son Michael) whose parents who are suspected of being Communists. Chaplin's elegant wit and grace are delightful, but the film is frustratingly uneven. The advertising satire is quite funny -- particularly a scene about a fraudulent dinner party -- but the anti-McCarthy material turns indulgent and heavy-handed. And a few plot threads are left dangling. Will the prime minister be brought to justice? What about those vaguely mentioned "atomic" plans that will revolutionize the planet? And did Shahdov's wife need to enter the story at all? Scenes end too abruptly. Chaplin's score seems corny and outdated. And his acting philosophy remains stuck in the silent age, calling for exaggerated body language from himself and others. A particularly bad example is how the younger Chaplin ridiculously wags a finger during his political rants. Another is the restaurant vignette that just serves as an excuse for Charlie to pantomime "caviar" and "turtle soup." Still, the shot where he joyfully dances and vaults into a tub can't be missed. (But what bizarre sort of hotel puts a door between adjoining bathrooms?)
Eric Broome
Super Reviewer
A King in New York Quotes
There are no approved quotes yet for this movie.