King Kong
(2005)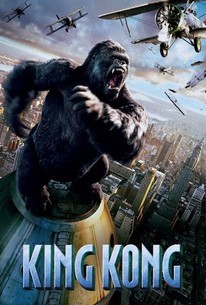 TOMATOMETER
AUDIENCE SCORE
Critic Consensus: Featuring state-of-the-art special effects, terrific performances, and a majestic sense of spectacle, Peter Jackson's remake of King Kong is a potent epic that's faithful to the spirit of the 1933 original.
Movie Info
One of the greatest adventure stories in Hollywood history gets a new interpretation in this action drama from Academy Award-winning director Peter Jackson. In the early 1930s, Carl Denham (Jack Black) is a daring filmmaker and adventurer who has gained a reputation for his pictures documenting wildlife in remote and dangerous jungle lands; despite the objections of his backers, Denham plans to film his next project aboard an ocean vessel en route to Skull Island, an uncharted island he discovered on a rare map. Correctly assuming his cast and crew would be wary of such a journey, Denham has told them they're traveling to Singapore, but before they set sail, his leading lady drops out of the project. Needing a beautiful actress willing to take a risk, Denham finds Ann Darrow (Naomi Watts), a beautiful but down-on-her-luck vaudeville performer, and offers her the role; cautious but eager to work, Darrow takes the role, and onboard the ship she strikes up a romance with Jack Driscoll (Adrien Brody), a respected playwright hired by Denham to write the script for his latest epic.When Denham and company arrive on Skull Island, the natives react with savage violence, but they happen to be the least of their worries. Skull Island is a sanctuary for prehistoric life, and lording it over the dinosaurs and other giant beasts is Kong, a 25-foot-tall gorilla who can outfight any creature on Earth. The natives kidnap Darrow, giving her to Kong as an offering to appease the giant beast; Denham and his men set out to find her, with Driscoll bravely determined to save the woman he loves. Eventually, Driscoll finds Darrow and Denham outwits Kong, intending to take the giant ape back to New York for display. But Kong has bonded with Darrow, and his attraction to her proves to be his undoing. Andy Serkis, who provided the body movements for Gollum in Peter Jackson's Lord of the Rings pictures, performed similar duties on King Kong, studying gorillas so he could mimic their actions, which were then used as the basis for the special-effects crew's digital animation of the great ape. ~ Mark Deming, Rovi
News & Interviews for King Kong
Critic Reviews for King Kong
Audience Reviews for King Kong
A film crew travel to a remote, lost island to make an adventure movie only to find it contains a lost world inhabited by dinosaurs and a huge gorilla like creature worshipped by the local tribe. Remakes are invariably a bad idea and remaking a classic doubly so. In fact the only reason I even bothered with this was the fact that Peter Jackson was at the helm and I have to say he did not disappoint. Sticking closely to the original story this felt more like an affectionate and knowing update than anything else, even taking time out to mock some of the more dubious gender and racial politics of the original. As a whole it has elements of Jurassic Park, Indiana Jones and even Titanic, Jackson handling all of these ingredients with consummate skill, creating a fantastically entertaining old school matinee style romantic adventure. The only real bone of contention (aside from the film's rather unnecessary running time) is the fact that Jackson gets far too carried away during what I assume was intended to be the show piece of the film; namely the lost world section. Given the keys to the toyshop, he loses all sense of restraint and subtlety goes flying out the window. It's clearly not enough to have a herd of brontosaurus. No, it has to be a stampeding herd, chased by raptors off a cliff in the middle of a gun battle....and just ONE poxy Tyrannosaurus Rex fighting a giant ape?? Hell no! Let's have three, all fighting at once, falling off a mountainside! This means that the sequences go beyond spectacle and into the realm of the absurd. Still, despite some of the green screening being a little obvious, it's a great looking film with a vibrant use of colour and the Kong effects still work brilliantly; he feels more like an actual character than a special effect. I also have to say the unspoken relationship of a girl and her CG ape has far more pathos than a hundred rom coms and as a whole it works really well.
I'm not one for remakes and it would be very hard to out do the 1933 version. I'kk stick with the first abd Best King Kong. 2 stars Updated from 9-14-07
Bruce Bruce
Super Reviewer
The film is visually, almost like a revolution. However, because of the length, most people won't appreciate this and worry about when the film ends. The film does have great performances from Naomi Watts, Adrien Brody and Jack Black. But the real focus should be Andy Serkis, who portrays as the cook and Kong. The infamous Insect pit is very intense and may most likely disturb children or those not comfortable with bugs.
Samuel Riley
Super Reviewer
King Kong Quotes
| | |
| --- | --- |
| Bruce Baxter: | I look good |
| Bruce Baxter: | I look good. |
| | |
| --- | --- |
| Carl Denham: | Oh, no, it wasn't the airplanes. It was Beauty killed the Beast. |
| | |
| --- | --- |
| Carl Denham: | Oh, no, it wasn't the airplanes. It was Beauty killed the Beast. |
| | |
| --- | --- |
| Carl Denham: | Fay's a size four. |
| Preston: | Yes, she is, but she's doing a picture with RKO. |
| Carl Denham: | Cooper, huh? I might've known. |