King Kong Lives
(1986)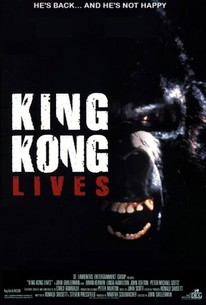 Movie Info
In Dino DeLaurentiis' sequel to his 1976 remake, Kong meets his ideal mate--a giant female gorilla. There's trouble in paradise, however, when the Army plots to exterminate both creatures.
Critic Reviews for King Kong Lives
Audience Reviews for King Kong Lives
Quite possibly the worst film ever made with "King Kong' in the title. I can't say that for sure as I haven't all of the unofficial sequels and spin-offs. I'm trying to come up with something positive to say about the film and I just can't. I guess the star is for the presence of Linda Hamilton and John Ashton - neither of whom do any sort of good work here. Well, maybe John Ashton, who's real good at being a completely heartless asshole. Anyways, trust me, avoid at all costs. The 1976 remake wasn't a gold mine of greatness by any means, but the sequel makes it looks like Gone With the Wind.
Tim Salmons
Super Reviewer
½
I want to say that it's a worse film than the '76 remake, but at least this is so horrible that it's funny. The idea to have a love interest for King Kong has got to be one of the most moronic thoughts. The effects are completely horrible and all it has is one notable star, Linda Hamilton. Aside from it being a giant disaster, it is just hilarious to watch.
Conner Rainwater
Super Reviewer
This is the stupid idea I ever heard and it's realized, make a sequel for King Kong! The story itself just get true at the ending of every King Kong movie, Kong gets killed by the beauty... But this movie, which is a sequel for 1976 King Kong, just get everything wrong.... The title itself just sound weird, King Kong Lives, it just make some stupid question about it like 'What movie is this?' or 'What? A sequel for King Kong?' and another question maybe... This movie made because they think they can make money again by resurrecting a death giant monkey, but that's all false... And shows up another Kong, the female one, then they have a baby, it just ridiculous... They didn't give a clue for the time, and amazingly the Kong have a baby! It really nonsense, it just that they really end up for ideas... The monkey itself stills looks like a toy, but still scary... Just this time, when Kong start eating human, it just makes me sick... Just a really wrong turn this time for Kong, one of the movie that should be never made...
Sanjaya 丘耀文
Super Reviewer
King Kong Lives Quotes
There are no approved quotes yet for this movie.