King Kong vs. Godzilla
(1963)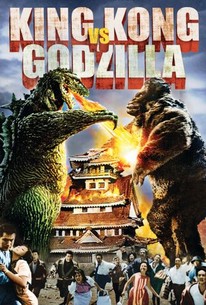 King Kong vs. Godzilla Photos
Movie Info
Boasting better than average special effects, this is a movie with all flash and little substance until the final scenes. At the end, for no real reason that the viewer is privy to, Earth's mightiest monsters decide to stand claw-to-claw and duke it out. Mankind just stands around watching the battle until one of the monsters keels over.
Critic Reviews for King Kong vs. Godzilla
Audience Reviews for King Kong vs. Godzilla
½
Godzilla escapes from an ice berg and King Kong is found on an island that has lots of kick ass berries on it which the natives grind into a juice for Kong to drink. After throwing boulders at a giant octopus and drinking the juice, Kong falls asleep and the local Japanese TV guys "ape nap" him and bring him back to Japan so their boss can exploit the big monkey for all he's worth. But en route, the Japanese government order the TV guys to send Kong back his home island because they've got enough problems with Godzilla as it is, they don't need a giant monkey on the rampage as well. Kong escapes and this leads to the inevitable clash of titans as Godzilla battles Kong for the right to demolish Tokyo. The original Kong from the 1933 film was only 50 feet tall while Godzilla is 400 feet tall, so they had to make Kong a lot bigger for this film and in order to make the odds more even for him they endowed him with the ability to draw strength from lightning bolts. The King Kong suit is hopelessly phony to look at though. The American version is a travesty that serves merely as filler until the big finale, with a reporter who really makes you long for Raymond Burr's reporter man Steve Martin. Whether or not the Japanese version ever becomes available in America remains to be seen, but hey, see whatever version you can get just to see Kong ram a ridiculously huge tree down Godzilla's throat! 3 1/2 stars 8-22-13
Bruce Bruce
Super Reviewer
½
While the first two entries in the Godzilla franchise were great movies, this third entry combines two legendary horror film monsters into one movie, and you'd expect something great right? Well, as it stands this is a sheer ridiculous outing, and that's the point. However, the plot could have been reworked to really make it worthwhile entertainment. As it stands this is a decent movie that is fun and quite mindless. This is where the series starts to really venture other genres and it pulls it off with entertaining results. Although the plot could have been done better, the film does provide viewers with all the aspects that you'd expect from a Godzilla film. One of the worst things about the films has got to the lacking, flat performances, which really don't stand out. Luckily the chaos that Godzilla creates redeems the film from being a total waste and the fight between King Kong and Godzilla is the standout of the film, and makes this quite entertaining despite its limitations. Go into this one with an open mind, and leave your brain at the door and you enjoy this. I liked the film; I just feel there could have been more effort put into its story and performances. If those aspects of the picture would have been reworked, this would have been truly a great monster film, one that could have been truly memorable. The film's strong point is the special effects, especially the giant octopus scene, which I thought was totally awesome. If you can get past the lacking plot, which is fairly easy, this is a fun and engaging mindless monster flick that will delight fans of the first. However, compared to the first two films, this is simply a decent effort at best, with room for improvement. Be prepared for a bizarre, yet amusing ride, but at the same time, this is far from the best film featuring Godzilla.
½
The story and screenplay look like a low budget picture from 50's. King Kong vs. Godzilla is a voluntary, sometimes involuntary comedy, with classic special effects of monsters Japanese, it's rare cult is a 'so bad that it's almost good': boring, but entertaining; surprising, but forgettable, bringing too continuation mistakes. Could you think that lost 105 minutes and later have some pride of say that you finally saw King Kong vs. Godzilla. An odd movie experience.
Lucas Martins
Super Reviewer
King Kong vs. Godzilla Quotes
| | |
| --- | --- |
| Kinsaburo Farue man with corns: | My corns always hurt when they're near a monster. |
| | |
| --- | --- |
| Mr. Tako: | No more! I'm sick of Godzilla! |