King of Hearts
(1967)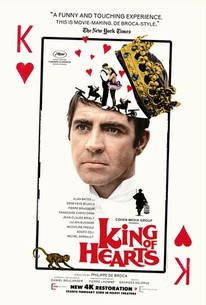 Movie Info
During World War I, Scottish soldier Private Plumpick (Academy Award (R) Nominee, Alan Bates) is sent on a mission to a village in the French countryside to disarm a bomb set by the retreating German army. Plumpick encounters a strange town occupied by the former residents of the local psychiatric hospital who escaped after the villagers deserted. Assuming roles like Bishop, Duke, barber and circus ringmaster, they warmly accept the visitor as their King of Hearts. With his reconnaissance and bomb-defusing mission looming, Plumpick starts to prefer the acceptance of the insane locals over the insanity of the war raging outside.
Critic Reviews for King of Hearts
Audience Reviews for King of Hearts
"In a mad world only the mad are sane." -Akira Kurosawa
Randy Tippy
Super Reviewer
½
When the populace of a small French town during WWI evacuates because of a bomb threat from the Germans, Pvt. Charles Plumpick (Alan Bates) is sent in to diffuse the bomb. What he doesn't know -- but we do -- is that the people he encounters in the town are all lunatic asylum escapees. In a lot of ways, the patients seem more sane than the officers and soliders involved in the war....they are definitely happier. The lesson of this film might be "Ignorance is bliss," or maybe "Sanity isn't all it's cracked up to be."
not for all tastes but if you're game its enjoyable
King of Hearts Quotes
There are no approved quotes yet for this movie.