The King of Kong: A Fistful of Quarters
(2007)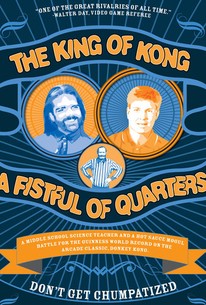 TOMATOMETER
AUDIENCE SCORE
Critic Consensus: The King of Kong is funny and compelling with more than a few poignant insights into human behavior. Director Seth Gordon presents the dueling King Kong players in all their obsessive complexity and with perfectly al dente observations.
The King of Kong: A Fistful of Quarters Photos
Movie Info
Obsession and the pursuit of excellence push diehard gamers to break World Records on classic arcade games like Q*bert, Joust, Pac-Man, and Donkey Kong. The film follows a middle school science teacher as he battles a hot sauce mogul for the Guinness World Record on the arcade classic Donkey Kong.
Critic Reviews for The King of Kong: A Fistful of Quarters
Audience Reviews for The King of Kong: A Fistful of Quarters
Good documentary, but is not as great as what every critic has claimed it to be. The film uncovers the word of competitive gaming and some of its icons such as Billy Mitchell who held the record of the most points acquired during a game of Donkey Kong. With a score of 870,300 points, Mitchell set a record hat stood for over twenty years. In comes Steve Wiebe, a teacher by day and video game enthusiast and Challenger of Billy's record. The film is good, and brings to light this interesting subject; however I found myself not liking it that much because I thought that Mitchell had a huge ego and couldn't face Steve Wiebe in what would have been the film's strongest point. I believe that if the documentary would have shown a match of Donkey Kong between Mitchell and Wiebe, then this would have been a far better film. The film is worth seeing if you're a gamer, and it is most certainly fun to watch. However if you're not familiar with its subject or don't express interest in video games, you may want to pass up on this. You can clearly see that a few parts of the film were scripted and that's really the film's biggest weakness, that and Billy Mitchell's refusal to face off with Steve Wiebe.I think what Mitchell did back in the 80'swas cool, but now he just makes himself look like a D__bag. In the end Steve Wiebe proved he was the better person and made Mitchell look like a coward. A good film, but pretty disappointing considering all the hype surrounding it.
"Don't get chumpatized" Diehard video game fans compete to break World Records on classic arcade games.
REVIEW
The King Of Kong is one of the best documentaries I've ever seen. I might be a bit biased since I'm a long time video gamer but even a non- video gamer would find this one to be utterly interesting. Steve Wiebe, a then unemployed schoolteacher, decides to try and break arcade ace Billy Mitchell's long-standing score at Donkey Kong. He does so and that begins his rocky road to getting a bunch of gaming nerds to recognize him for his efforts. It's amazing to see Billy Mitchell (who comes off as the Brad Pitt of video gaming) using his smarmy charm and stroke to control the nerds who kowtow him when it comes to his beloved Donkey Kong record. All Steve Wiebe wants is recognition for his prowess at Donkey Kong; he doesn't really want to join Walter Day and his merry nerds. However, we see Billy Mitchell (who doesn't play a single game in the film) continually belittle Wiebe, talk about how great he is and use BS tactics to keep Wiebe away from his record. The Twin Galaxy nerds want to accept Steve but they are so under Billy the Egotist's thumb that they can't lest they lose their biggest "star". It's sad to see people simply let one guy walk all over them and think they deserve to be respected. We see a group of people fighting over something so trivial as a video game score record and it's a shock. That something so insignificant is taken so seriously will surprise many people. This is one documentary worth seeing just to see some real hardcore video gamers trading barbs and talking big. These guys didn't stop after the filming. Billy, Steve and a few others are still trying to be The King Of Kong as we speak.
Lorenzo von Matterhorn
Super Reviewer
This is an incredible documentary about two of the most obsessive and unforgettable characters I've seen in ANY FILM! Entertaining, unforgettable and pretty remarkable.
The King of Kong: A Fistful of Quarters Quotes
There are no approved quotes yet for this movie.