King Rat
(1965)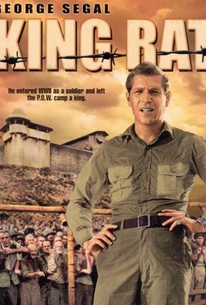 Movie Info
James Clavell incorporated a few of his own experiences as a British POW in his novel King Rat. Bryan Forbes' film version stars George Segal as the mastermind of all black market operations in a Japanese prison camp. He is called "King Rat" because of his breeding of rodents to serve as food for his emaciated fellow prisoners; the nickname also alludes to Segal's shifty personality. British officer James Fox helps Segal expand his operation to include trading with the Japanese officers. Though on surface level a thoroughly selfish sort, Segal saves the ailing Fox's life by wangling precious antibiotics from the guards.
Critic Reviews for King Rat
All Critics (5) | Fresh (5) | Rotten (0)
It did poorly at the box office even though most critics liked it.
A cynical look at what humanity will do to survive under extreme circumstances.
In this environment, a hustler like King is sure to thrive, just as any resourceful rat would
January 1, 2000
Audience Reviews for King Rat
Good POW film that doesn't make you forget the Bridge on the River Kwai or any of the other prison films that William Holden pops up in but it nonetheless is interesting to see the story of a survivor and the choices that he makes with his fellow Brits and the Japanese that keep him locked up.
John Ballantine
Super Reviewer
½
This story of prisoners of war in a WWII japanese prison camp is based on true experiences, and is far more concerned with the harsh realities of surviving the terrible hardships of day to day life than derring do and cunning escape plans. George Segal plays a cynical hustler who seems far more adept at making the best of his predicament, and as such the other prisoners either ally themselves with or despise him. James Fox is excellent as the british officer who befriends him and humour and drama unfolds as the camps differing factions motives and hypocrisies are exposed. Best described as a cross between The Bridge On The River Kwai and Stalag 17, it is not quite their measure, but it's a damn good film in it's own right.
King Rat Quotes
There are no approved quotes yet for this movie.