Kingdom of Heaven
(2005)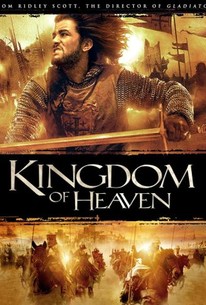 Movie Info
Kingdom of Heaven is an epic adventure about a common man who finds himself thrust into a decades-long war. A stranger in a strange land, he serves a doomed king, falls in love with an exotic and forbidden queen, and rises to knighthood. Ultimately, he must protect the people of Jerusalem from overwhelming forces - while striving to keep a fragile peace.
Critic Reviews for Kingdom of Heaven
Audience Reviews for Kingdom of Heaven
Interesting subject matter, and capable (if overly glossy) cinematography, but something in this film just didn't come out right. I think there was too much build up to most events; though the plot was interesting, everything developed so slowly that the sting had been taken out of the events before they occurred. That, and I didn't buy Orlando Bloom in this part - too young and too pretty. Didn't reward the investment it required, and could have trimmed some fat to make for a better watch.
Daniel Perry
Super Reviewer
Ridley Scott takes it slow and steady with Kingdom of Heaven.
It is no secret that this film goes to great lengths to tell its story. The run time, for one, is a massive 3 hours. It isn't a quick sit through, nor does it feel like it with only a moderate pace. On the other hand, the costumes and set design are visually pleasing. When it comes to the story, there isn't a whole lot that can be deemed unnecessary, as most of it does fit nicely together.
The violence is bloody and the action is as it should be. Nothing fancy when it comes to the choreography; just large clashes, especially in the final hour.
The cast is solid. The supporting roles tend to outshine Orlando Bloom, but since the characters come and go, it is Bloom that ends up with the most to deliver. The likes of Eva Green, Jeremy Irons, and David Thewlis are just a few of the standouts throughout the picture.
Kingdom of Heaven isn't a masterpiece, but it is a recommendable picture if one has 3 hours to spare.
½
The director`s cut of the film makes this a materpiece. It adds more accuracy and vison to Scott`s firece and bloody epic of dazzling power and dedication. An exhilerating and spectacular action-packed adventure epic. A stunning, stylish, deeply moving and jaw-dropping historical epic that ranks with Gladiator and Braveheart. Director, Ridley Scott has crafted another fine masterwork. It`s jammend with awesome and well-crafted battle sequences. A truly magnificent cast. Orlando Bloom is teriffic, crafting a surprisingly enduring and compelling performance. Liam Neeson and Jeremy Irons are superb. Edward Norton is brilliant.
Kingdom of Heaven Quotes
| | |
| --- | --- |
| Priest: | Convert to Islam today and beg Gods Forgiveness Tomorrow |
| Priest: | Convert to Islam today and beg Gods forgiveness tomorrow. |
| Balian: | You Have Taught Me A lot About Religion Your Eminence |
| Balian: | You have taught me a lot about religion your eminence. |
| | |
| --- | --- |
| Balian: | You go to certain death. |
| Hospitaler: | All death is certain. |
| | |
| --- | --- |
| Priest: | Does making a man a knight make him a better fighter? |
| Balian: | Yes. |
| | |
| --- | --- |
| Balian: | How could you be in hell, when you are in my heart. |