Kings Row
(1942)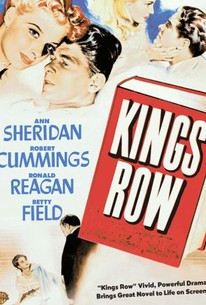 Movie Info
In this dark drama, set shortly before WWII, two young men grow up to discover that their idyllic and wholesome Midwestern hometown has a seamy side rife with jealousy, pettiness, and horrific acts.
Critic Reviews for Kings Row
Audience Reviews for Kings Row
Reagan's leap to stardom through this? Well its okay. It's a bit too much like a soap opera but we have passable acting with neurotic folks throughout.
John Ballantine
Super Reviewer
Based on a dark, soapy bestselling novel, this is definitely one of Ronald Reagan's best performances, if not THE best. Like "Peyton Place", the original novel focused on the dark secrets underlying an outwardly nice, moral, family-oriented town. Unfortunately, unlike "Peyton Place," the subject matter had to be way watered down to get past the censors at the time this was made, leaving one of the key storylines - a doctor's incestuous relationship with his daughter - so vague that the first time I saw this film prior to reading the book, I didn't understand what was going on with that subplot. The other weird thing about this movie is that Kings Row manages to have not one, but TWO messed-up doctors: one's the aforementioned incest committer (played by Claude Rains) and the other (played by Charles Coburn) is a sadist who enjoys amputating limbs and wreaking vengeance on patients he doesn't like. Reagan plays "Drake", a dashing rich party-boy who falls victim to the sadistic doc but then manages to have a decent life thanks to the tender mercies of his childhood friend "Randy" (Ann Sheridan), the girl literally from the wrong side of the tracks. I thought Reagan and Sheridan pretty much carried the film, with the other main part, their friend "Parris" (Robert Cummings) finishing a very distant third. As someone else noted, the amputation theme was timely due to WWII even though this book is set in an earlier era. A decent soap opera for its time, but not quite as good as the book due to all the controversial (for then) issues that had to be presented very obliquely or left out entirely.. 5 Stars
Bruce Bruce
Super Reviewer
½
Good film could have been great with better male leads, the female stars are excellent though.