Kiss of the Vampire
(1963)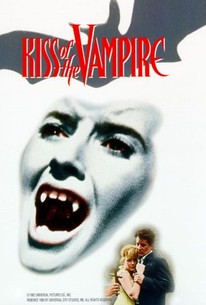 Kiss of the Vampire Photos
Movie Info
Producer Anthony Hinds used the alias John Elder to pen the screenplay of Kiss of the Vampire. Dr. Ravna (Noel Willman), an early 20th century Bavarian, entices a British honeymooning couple, Gerald and Marianne (Clifford Evans, Jennifer Daniel), to accept his hospitality. Once ensconced in Ravna's chateau, the couple discovers with horror that Ravna, Bavaria's biggest fan of Count Dracula, is the leader of an enthusiastic vampire cult. Clifford Evans plays the Van Helsing counterpart, Professor Zimmer, a vampire expert who first tries to warn the couple out of the area and then saves Marianne. Not as horrific as the title suggests, Kiss of the Vampire concentrates on the seductive, sensual side of vampirism, especially in a surrealistic masked-ball sequence. Though it contains far less bloodletting than most Hammer productions, Kiss of the Vampire was severely cut for its American TV release (and retitled Kiss of Evil).
News & Interviews for Kiss of the Vampire
Critic Reviews for Kiss of the Vampire
Audience Reviews for Kiss of the Vampire
A movie from the Hammer Collection. This is an awesome movie for having been filmed in 1963. The color throughout the movie is excellent. About a young British couple traveling through the countryside when they run out of gas and stay at a local inn that nobody wants to stay at, reason being a vampire lives close by, and he invites this newly married couple into his home for dinner, no pun intended. So starts the typical Vampire steals girl away story, but its worth every bit of 4 stars.
Bruce Bruce
Super Reviewer
½
Despite a strong opening, Kiss of the Vampire was a sort of jagged bore for the first hour or so. Most of the elements of a Hammer classic were there but it just wasn't coming together. Fortunately the last half hour saved this movie in spades. The story is as bare bones as you can get but the atmosphere is with any worthy Hammer movie great. The last half hour was great and made the entire dull first half completely worth it. The effects in the climax were to put it politely, dated. But the images were great. Definitely worth it.
Michael Gildea
Super Reviewer
This is a simple, but effective vampire movie. The story is simple but really good, the actors are pretty good, although I'm not familiar with them. Still, I really liked this movie, it's a good vampire flick.
Kiss of the Vampire Quotes
There are no approved quotes yet for this movie.