Kiss or Kill
(1997)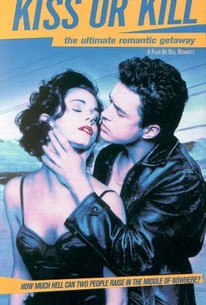 Movie Info
In this psychological thriller, two young lovers take off across the desert toward Perth after their robbery scam goes awry and one of their victims accidentally dies. Their operation started out normally enough with Nikki seducing a married stranger into her hotel room where she planned to drug, then rob him with assistance from her boyfriend Al. Unfortunately, he accidentally overdoses and dies. Things take an even darker turn when the two discover the man is carrying a video tape of a nationally known athlete committing a sexual act with a child. Nikki and Al immediately take off with Zipper Doyle, the athlete in hot pursuit. Two policemen, Hummer and Crean are also searching for them. The situation grows worse when the two fugitives spend the night at a motel. The owner is kind to them, but during the night, someone came in an slashed his throat. Al thinks Nikki, who was traumatized as a child when she saw a burglar burn her mother alive, may have done it while sleepwalking. Nikki, in turn, thinks Al did the deed. When more murders happen a short while later, it only serves to increase the tension between the two.
Critic Reviews for Kiss or Kill
Audience Reviews for Kiss or Kill
½
I saw this at the cinema when this first came out and really enjoyed it. Around 20 years later, it is still a good movie and not all that dated considering.
Nicki Marie
Super Reviewer
Kiss or Kill Quotes
There are no approved quotes yet for this movie.