Kiss the Bride
(2002)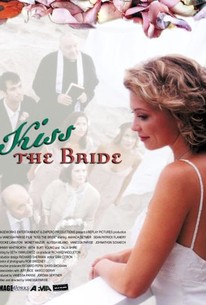 Movie Info
New England native Vanessa Parise makes her directorial debut with the Italian-American wedding movie Kiss the Bride. Danni Sposato (Amanda Detmer) embarks on her wedding plans aided by her mother, Irena (Talia Shire), and grandmother Julia (Frances Bay). Danni's three sisters return home to Rhode Island for the wedding: oldest Niki (Brooke Langton) is the Hollywood star of a TV show, who brings along her rude boyfriend/manager Marty (Johnny Whitworth); icy Chrissy (played by director Parise) is a wealthy New York City businesswoman with no romantic prospects; and youngest Toni (Monet Mazur) drives a motorcycle and brings along her girlfriend Amy (Alyssa Milano). Also starring Burt Young and Sean Patrick Flanery.
Critic Reviews for Kiss the Bride
Audience Reviews for Kiss the Bride
Burt Young and Talia Shire are the parents in this "my crazy Italian family!" romcom, the gravitas, the weight in this otherwise cheese souffle, and the director doesn't know it. That is the beginning of flubs made. Skip it. Or simply watch any ABC sitcom. It feels the same.
Kevin M. Williams
Super Reviewer
½
Has its moments, particularly Amanda Detmer's meltdown, but her three sisters are such loathsome, selfish hateful bitches that it drains most of the enjoyment out of any small worthwhile contributions the film does offer. That said several supporting actors do good work, Talia Shire and Alyssa Milano in particular give fine performances.
Here is a good movie with an interesting story plot that surrounds the lives of four sisters. As one prepares for marriage, the others begin to seek their own happiness. Great cast- Burt Young, Talia Shire, Amanda Detmer, Brooke Langton, Jonathon Schaech, and Monet Mazur. Tons of laughter. Definitely worthy.
Kiss the Bride Quotes
There are no approved quotes yet for this movie.