Kiss Them for Me
(1957)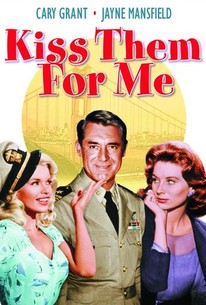 AUDIENCE SCORE
Critic Consensus: No consensus yet.
Movie Info
Luther Davis' racy wartime comedy Kiss Them for Me was expurgated a bit for the 1957 film version. Cary Grant, Ray Walston and Larry Blyden portray three navy war heroes who've been booked on a morale-building "vacation" in San Francisco. Eluding their ulcerated public relations officer (Werner Klemperer), the trio arranges a wild party with plenty of pretty girls. Cary Grant is paired with knockout Suzy Parker, an icy socialite who eventually thaws under his charms. Also on hand is Jayne Mansfield, playing a "good time girl" whose profession was a bit more explicit in the original play; the role was originated by Judy Holliday, who brought a wistfulness to the character that Ms. Mansfield couldn't quite manage. TV sitcom fans will get a kick out of the supporting cast of Kiss Them For Me: Ray Walston, later star of My Favorite Martian plays a libertine navy officer; Werner Klemperer, shorn of the accent he'd use as Colonel Klink in Hogan's Heroes, is hilarious as the flustered p.r. man; and Richard Deacon (Leave It to Beaver, The Dick Van Dyke Show) pops up unbilled as a dour businessman who can't understand the war-hero mystique.
Critic Reviews for Kiss Them for Me
Audience Reviews for Kiss Them for Me
This movie had the potential to be a great movie, but I think maybe the scriptwriters got carried away or something because it doesn't go anywhere. It has some good stars, but it lacks any interesting situations or anything. It's okay, but it really should have been made better.
A contender for Cary's worst film, leering and unpleasant
Kiss Them for Me Quotes
There are no approved quotes yet for this movie.