Kissed
(1997)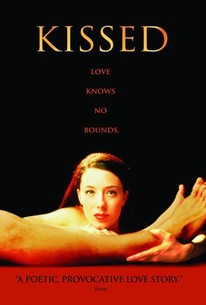 Movie Info
This offbeat outing offers a surprisingly sensitive and somewhat romantic portrait of a necrophiliac. Sandra has been infatuated with dead people all of her life. She grows up to work in a funeral home and finds herself irresistibly drawn to deceased men. Her living boyfriend tries desperately to help her.
Critic Reviews for Kissed
Audience Reviews for Kissed
Creative progression and fantastic casting doesn't quite counterbalance the creepy necrophilic premise.
Randy Tippy
Super Reviewer
½
Kissed is the Citizen Kane of films involving necrophilia. it's directed very well by Lynne Stopkewich in lighting, cinematography and an emotional way of exploring the subject. I really can't think of any other film where the corpse is a male and a living breathing woman is female. This is not an exploitation movie about having sex with the dead, but an art movie about loving them romantically. The central character, played by Molly Parker, has had a fascination with death since being a child. She isn't obsessed, she just finds it compelling. It is difficult to recommend or even mention this film without getting odd looks, or questions about your own sexual behavior. But this film isn't about exploring a sexual perversion, but questioning the boundaries of love, sex, death, and the search for transcendence. Well done.
El Hombre Invisible
Super Reviewer
½
About a girl at a mortuary who finds an attraction to the dead bodies - it sounds bad, but actually it's quite tastefully done, and offers an interesting insight.
Lafe Fredbjornson
Super Reviewer
Kissed Quotes
There are no approved quotes yet for this movie.