Kissing Jessica Stein
(2002)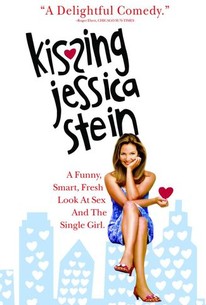 Kissing Jessica Stein Photos
Movie Info
A woman searching for the perfect man instead discovers the perfect woman in this romantic comedy. Jessica Stein (Jennifer Westfeldt) is a woman with a solid career as a copy editor, but her love life isn't much to write home about; she's been through a long series of disastrous first dates that refuse to evolve into second dates, and the well-intended advice of her best friend Joan (Jackie Hoffman) and former boyfriend Josh (Scott Cohen) isn't helping a bit. One day, Jessica is scanning personal ads in the newspaper with her friends, and she sees one with a quote from her favorite poet. Jessica reads on to discover that she has a lot in common with the person who placed the ad -- too much so, since it turns out the notice is from a woman, Helen Cooper (Heather Juergensen), who manages an art gallery. Jessica figures it would at least be nice to hang out with someone who shares her interests, and she gives Helen a call. Jessica and Helen quickly strike up a close friendship that evolves into something more intimate, though neither of them has ever been involved with another woman ... and Helen is a bit more avid about her new romantic horizons than Jessica. As their relationship progresses, Jessica finds herself struggling with her feelings about her new sexual outlook, and she isn't sure how to break the news about her relationship to her mother (Tovah Feldshuh) as she tries to decide if she should bring Helen along to her brother's wedding. Kissing Jessica Stein was based on the off-Broadway play Lipschtick, which was written by Jennifer Westfeldt and Heather Juergensen, who starred in the original stage production as well as this film adaptation; the film won both the Critics' Special Jury Award and the Audience Award at the 2001 Los Angeles Film Festival. ~ Mark Deming, Rovi
Critic Reviews for Kissing Jessica Stein
Audience Reviews for Kissing Jessica Stein
½
I have a girl crush on Jennifer Westfeldt (which seems appropriate for this movie about a buttoned-up Jewess trying on lesbianism to find her [7] true love[s]). Too bad she's all in a committed long-term relationship with hunk-o-man Jon Hamm. Westfeldt as Jessica is so adorably neurotic and girl-next-door-pretty. My perennial favorite, Scott Cohen, is mean and tough but also sweetly anguished. Jessica and Helen's romance blossoms awkwardly and hilariously at first, but the moment Jessica comes over to take care of Helen when she's sick is a nice turning point. The movie debates homosexual politics a bit, but it doesn't end with a clear message about whether one should be with her own sex or the other. It also doesn't cheapen Jessica's lesbian relationship as a dalliance. I also love how the script sneaks in bunches of word-nerd humor and suffering artist philosophy. Judy's monologue about how Jessica quitting the school play because she thought her costar wasn't good enough - and only really hurting herself - is a metaphor for her dating life is eloquent and insightful. Josh's realization at his happiness for Jessica's painting and his own novel writing is a necessary reminder for all creative artists. Blech.
Alice Shen
Super Reviewer
½
Just a really inspirational movie. It's all worth it for the single scene where Helen is sick.
Letitia Lew
Super Reviewer
I thought this movie was supposed to be more of a comedy (just my perception, not a misleading trailer as often happens). So I got over that easily and enjoyed it.
Kissing Jessica Stein Quotes
| | |
| --- | --- |
| Judy Stein: | And you came home after the first day of rehearsal and said to me, "Mommy, I'm not gonna do it. I quit." And I said, "Jessie, my love, why?" And you said, "Because my co-star isn't good enough. And if my co-star isn't good enough, then the play won't be good enough. And I don't want to be part of any play that isn't good enough." And I thought to myself, oy. This child will suffer. |
| Judy Stein: | And you came home after the first day of rehearsal and said to me, 'Mommy, I'm not gonna do it. I quit.' And I said, 'Jessie, my love, why?' And you said, 'Because my co-star isn't good enough. And if my co-star isn't good enough, then the play won't be good enough. And I don't want to be part of any play that isn't good enough.' And I thought to myself, oy. This child will suffer. |
| | |
| --- | --- |
| Helen Cooper: | What'd you do to be happy? |
| Jessica Stein: | Nothing. I'm not. |