Soul Kitchen
(2010)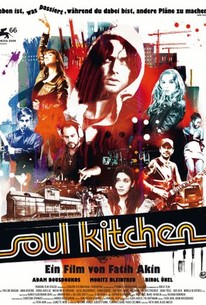 Movie Info
Celebrated filmmaker Fatih Akin, known for celebrated dramas like HEAD-ON and THE EDGE OF HEAVEN, serves up a delightfully fresh comedy with his latest award-winning film. SOUL KITCHEN is a delicious, free spirited story of food, friends, and rock & roll, winner of the Special Jury Prize and the Young Cinema Award for Best Film at the Venice Film Festival, and a smash with audiences at the Toronto and Tribeca film festivals. SOUL KITCHEN film centers on a likable but hopelessly disorganized restauranteur, Zinos (co-screenwriter Adam Bousdoukos) whose cafe is second home to a motley crew of lovable eccentrics. When his girlfriend Nadine up and moves to Shanghai, a love-sick Zinos decides to fly after her, leaving his restaurant in the hands of his unreliable ex-con brother Illias. Both decisions turn out disastrous: Illias gambles away the restaurant to a shady real estate agent, and Zinos finds Nadine with a new lover. If the brothers can stop arguing and get it together, the Soul Kitchen might still have one last chance at staying in business. The mayhem that follows is a hilariously entertaining story of self-realization, set to an irresistibly soulful soundtrack. -- (C)IFC
Critic Reviews for Soul Kitchen
Audience Reviews for Soul Kitchen
A real sleeper, great movie. For Zinos the restauranteur, in his run-down, bland Soul Kitchen in Hamburg's industrial district, things just keep going wrong: his girlfriend, a journalist, leaves for China; his brother gets out of jail and brings his old friends and old ways back in Zinos's life; a chance meeting with an old school chum who's become a real estate developer turns into constant pressure to sell. It's hard to say more without ruining the intrigue, but for most of the movie, Zinos is a punching bag. The film is rarely heavy, and never mean-spirited, though: it just generates honest laughs, in an "Oh come on, what next!?" sort of way. Occasionally, the humour borders on slapstick, but all the jokes come from the plot, and something new is always happening to keep driving the story forward. Add in a great soundtrack (funk and soul, naturally), and you've got the recipe for pure cinematic joy. Highly, highly recommend, it's an excellent film.
Daniel Perry
Super Reviewer
½
Akin delivers a fresh, light-hearted comedy with his cast of regulars. I would have liked to see more of Birol Unel's intensity, but this was nicely balanced with the introduction of Anna Bederke. The soundtrack well paces the film.
Stefanie C
Super Reviewer
Super witty, and fun, foreign romp with excellent music direction and a great supporting cast. So if you find yourself pouring over, and desperately sifting through, the recent drivel Hollywood is producing en masse in an attempt to find something acceptable to watch, give this flick a chance. It's refreshing, not too heavy, and chock full of chuckles!
Cynthia S.
Super Reviewer
Soul Kitchen Quotes
There are no approved quotes yet for this movie.