Kitty Foyle
(1940)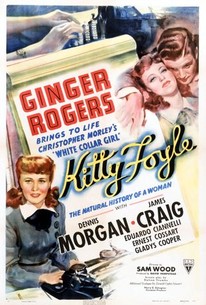 Movie Info
Though Ginger Rogers' starring vehicles always turned a profit for RKO Radio, many filmgoers thought of Rogers only in terms of "Fred Astaire's partner." Others considered her a delightful comedienne, but no great shakes as a dramatic actress. Thus it was both a personal and professional triumph when Ms. Rogers walked home with an Oscar for her performance in Kitty Foyle. Based on Christopher Morley's Story of an American Girl, the film, told in flashback, relates the progress of working-girl Kitty Foyle (Ginger Rogers) as she pursues her Cinderella dreams. While employed at a department store, Kitty is wooed by Dennis Morgan, scion of a wealthy Philadelphia family. She flirts with the notion of marrying Morgan for his money, but decides that he's a bit too weak-willed for her tastes. Kitty enters into a romance with poor-but-dedicated doctor James Craig, then does an about-face by accepting Morgan's proposal. She quickly runs afoul of Morgan's snobbish family, who are so tightly bound by centuries-old tradition that Kitty is moved to exclaim "You mean to say you let all those dead people tell you what do?" She walks out on Morgan, then discovers that she's pregnant. Even after the trauma of delivering a stillborn child, Kitty is too proud to go back to Morgan. When true-blue Craig comes back into her life, Kitty, repeating her favorite phrase "By Judas Priest!", decides to forego money for love. Though successful to the tune of an $860,000 profit in 1940, Kitty Foyle seems stilted and over-rehearsed when seen today, save for the refreshing spontaneity of Ginger Rogers' performance. The film's best scene is the opening montage of the American Woman's "progress" once she enters the workplace (an uncredited Heather Angel is the central character in this delightful pantomimic vignette). Featured in the cast of Kitty Foyle is director Sam Wood's daughter Katherine Stevens, better known as K.T. Stevens. ~ Hal Erickson, Rovi
News & Interviews for Kitty Foyle
Critic Reviews for Kitty Foyle
Audience Reviews for Kitty Foyle
GInger Rogers is okay here on her own and away from Fred Astaire. I can't say it is particularly memorable however. Call it an early version of the chick flick.
John Ballantine
Super Reviewer
I worked backstage on a stage musical about the life of Ginger Rogers. This movie and the Oscar Ginger won for playing Kitty Foyle was shown as the crowning achievement of her career. I had seen this years ago when I was in college as part of my Oscar winning film list. I remembered that Ginger (at nearly 30) plays Kitty at many ages. I thought I remembered a scene in this movie when Ginger is playing Kitty as a little girl, she climbs into an over sized arm chair, and kicks her dangling legs. My wife and I with a couple friends just watched a video of Kitty Foyle and that scene did not appear. What movie was I confusing this movie with? Kitty is dating a simple working class doctor. Then an old boyfriend who she thought was gone from her life for good finds her again. They both ask her to meet them later to run off and start a new life together. She begins packing and finds a snow globe. Kitty's conscience talks back to her from the hotel dresser mirror and encourages her to think carefully through her past in order to chose the right guy. Through the snow globe we see a teenage Kitty fascinated by the Chicago social elite. When she returns home (the snow globe belongs to her father), her pop tries to tell her about her proud Irish working class roots and how the aristocratic class would never accept her. Kitty's pop (Ernest Cossart) is a witty rascal who has a lot of great lines. We see Kitty grow up and fall for Wyn Strafford one of the Chicago social elite who is trying to run his own magazine until the capitol that his family provided runs out. Her relationship with Wynn is complicated and she heads to New York on her own. There, while working as a perfume sales girl, she reluctantly meets the doctor Mark. Ginger Rogers shines without singing or dancing. The script, which flashes back and skips through time, seems very mature and a bit ahead of its time. Plus there are many genuine laughs. Kitty is quite a modern woman and the ending is satisfying. If the play I worked on is to be believed, even though she was not credited in the role, Ginger had quite a bit of artistic control over this movie and she made sure the story and the characters were believable.
Byron Brubaker
Super Reviewer
½
This movie is interesting for a romantic drama, but it's not great.
Kitty Foyle Quotes
There are no approved quotes yet for this movie.