Klovn: The Movie (Klown)
(2012)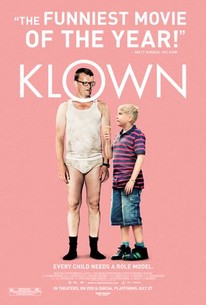 TOMATOMETER
AUDIENCE SCORE
Critic Consensus: Klown will go too far for many viewers, but anyone with a fondness for seriously dark, aggressive, and overall inappropriate humor may find it impossible to resist.
Klovn: The Movie (Klown) Photos
Movie Info
Two wildly inappropriate friends run amok through the Danish countryside plowing through endless awkward confrontations and unspeakable debaucheries. Hopelessly wrongheaded Frank "kidnaps" the 12-year-old nephew of his pregnant girlfriend in an eager attempt to prove his fatherhood potential to join sex-crazed Casper on his secret adulterous weekend canoe trip. From exclusive brothels, hospitalizations, armed robberies and even prison, the three paddle downstream from one chaotic misadventure to the next culminating in a surprise sentimental portrait of friendship and a final shocking reveal that you won't soon unsee. -- (C) Official Site
News & Interviews for Klovn: The Movie (Klown)
Critic Reviews for Klovn: The Movie (Klown)
Audience Reviews for Klovn: The Movie (Klown)
½
"I'd love to be a sex tourist in my own country." - Frank Best friends Frank and Casper embark on a sex tour turned canoeing trip with 12-year-old Bo in tow. This marked the first feature-length escapade spun from the popular Danish sitcom of the same name. Frank Hvam and Casper Christensen have a deranged repertoire that they've developed over the years. The inappropriate hijinks are hilarious and shocking even if this ultimately feels like an episode spread too thin. If nothing else, it's illuminating to see this breed of Danish comedy, which go places that would never fly in the United States.
J.S. Lewis
Super Reviewer
½
Think of a Judd Apatow film. Now add some grit and gravitas and (more) lewdness, without stripping away any of the honest charm, and you'll get a film a lot like Klown. At its core, it's the story of three men growing up - never mind that two of them are already in their forties. Our hero, Frank, is a bumbler whose girlfriend has all but given up on his fatherhood potential. Frank's friend Casper organizes an annual camping trip, which is largely a cover for the men to cheat on their wives, and in a misguided attempt to prove he can be a father after all, Frank kidnaps his girlfriend's twelve-year-old nephew the day before the trip, and has no choice but to take him along. It's a film with a lot of laughs and in the end a lot of charm, too - a little-known film from Denmark that punches above its weight and leaves a bigger impression. Great discovery!
Daniel Perry
Super Reviewer
½
A pretty damn good sex comedy. It's one that simply isn't afraid of what anyone might think about its content. It's a movie where nothing is a taboo, everything is pretty much allowed, as you will see once you've seen this film. But even with all of that, with, some might say, offensive and questionable content, the movie still has a lot of heart. Surprisingly so quite frankly. There's a method to the madness. They're just not simply doing a lot of this "gross" shit simply for the fuck of it, pun very much intended. In a way you grow to like Frank and Casper, no matter how inept and unlikable they may come across at first. The fact that they're so unlikable is part of their charm and it's where a lot of the comedy comes from. Just watching them be completely insensitive and doing shit that no normal being would ever do in their lives, at least Frank's pearl necklace scene. The cast is very good, Frank, Casper and Marcuz (Bo) all have great chemistry with each other and it's a lot of fun seeing them and how they interact with each other in increasingly absurd and hilarious situations. As far as sex comedies go, this has to be, by far, among the best of them in a long while. Because not only does it have a lot of gross-out humor, it also has a good story with some good character progression (believe it or not) so it doesn't feel like an empty experience, which is what sex comedies end up feeling like. If you have use a lot of Netflix instant streaming and are in need of a good comedy, then this one will definitely do the trick.
Jesse Ortega
Super Reviewer
Klovn: The Movie (Klown) Quotes
| | |
| --- | --- |
| Casper: | She made pancakes! |
| | |
| --- | --- |
| Casper: | I need women! It's my drug! |
| | |
| --- | --- |
| Frank: | I have loads of father potential! |