Klute
(1971)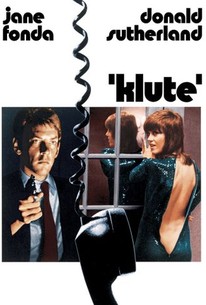 TOMATOMETER
AUDIENCE SCORE
Critic Consensus: Donald Sutherland is coolly commanding and Jane Fonda a force of nature in Klute, a cuttingly intelligent thriller that generates its most agonizing tension from its stars' repartee.
Movie Info
The first part of his "paranoia trilogy," Alan J. Pakula's 1971 thriller details the troubled life of a Manhattan prostitute stalked by one of her tricks. Investigating the disappearance of his friend Tom Gruneman (Robert Milli), rural Pennsylvania private eye John Klute (Donald Sutherland) follows a lead provided by Gruneman's associate Peter Cable (Charles Cioffi) to seek out a call girl who Gruneman knew in New York City. The call girl is Bree Daniels (Jane Fonda), an aspiring actress who turns tricks for the cash and to be free of emotional bondage. Klute follows Bree's every move, observing the city's decadence and her isolation, eventually contacting her about Gruneman. Bree claims not to know Gruneman, but she does reveal that she has received threats from a john. As Bree becomes involved in Klute's search and realizes that she is in danger, she reluctantly falls in love with Klute, despite her wish to remain unattached to any man. When she finally comes face to face with the killer, however, she is forced to reconsider her detached urban life.
Audience Reviews for Klute
Astonishingly this thriller is one of the creepier films, not to be placed in the horror genre, that I have ever seen. Between the childlike voices in the score, the voyeurism from the murderer, and the strange ending, this film crept under my skin and lingered. Jane Fonda gives the performance of a lifetime as Bree, an unaffected prostitute who is wrapped up in a game of intrigue after one of her former clients disappears. Strait laced PI, Klute, comes to the city to find him and she falls in with the investigator. Most of what makes the film gritty and realistic comes from Bree, who is one of the most interesting female characters in seventies' cinema. She has long term goals to be an actress or model, but she doesn't see the problems with that goal, and she is also stubborn to see the inaccuracies in the world. She respects her clients when she's with them, but she feels shame and resentment towards them and herself. Bree is both audacious when confronted with her world and sullen towards the implications of her actions, making her interactions with Klute that much more interesting. Whenever Fonda is onscreen she illuminates with her performance, creating a complex portrayal of a sanguine woman without many options left. Thrilling and yet creepy, this is a film highly recommended for the hardhearted and the brave.
Spencer S.
Super Reviewer
The most interesting thing about this movie (viewing it in 2012) is the idea people had back then that being free of human entanglements was the only thing worth striving for. So, even being a prostitute whose best friends are either dead or strung out on H, is preferable to giving dinner parties in suburbia--which is how the script frames the issue. I liked the device of talking to the shrink as a way to get to know Bree (rhymes with free, get it?). I loved the dark moody sets. I thought Klute (Donald Sutherland) was creepier than the bad guys--he was protrayed as a huge voyeur--Jane Fonda was perfect as the messed up freedom rider/control freak who wanted to numb herself. Everyone I know who saw it when it came out said they loved it...I wonder if they would love it still?
Bathsheba Monk
Super Reviewer
What probably read as a pretty uninteresting story is brought to stunning, sanguine life by Alan J. Pakula. The plot is thin and unsatisfying, and I don't think I'll ever truly get Donald Sutherland's complete disinterest in everything he gets cast in, but the center of the film is rightly Jane Fonda's high-class hooker Bree. Watching her move through this bizarrely cryptic, sinister world is captivating; she digs her talons into the psychology of this angry, intelligent woman and doesn't let go. It is a full, consummate performance, fabulous and yet oddly underseen work. She is clearly the center of Pakula's aesthetic; I found his mise-en-scene to be something of a representation of Bree herself, enigmatic and obscured but in some ways very forthcoming. The gruesome parts are easy to see, but everything else feels hidden away. If you're looking for a subtly stylish, quiet thriller with one instance of excellent character work, Klute will fit the bill. It isn't perfect, lacking dramatic impact and not fully scaffolded by all involved, but its visual clout is clear.
Drew Smith
Super Reviewer
Klute Quotes
| | |
| --- | --- |
| Psychiatrist: | I charge by the hour, just like you do sweetie pie. |
| | |
| --- | --- |
| Bree Daniels: | I just can't stay in the city, you know? Maybe I'll come back. You'll probably see me next week. |
| | |
| --- | --- |
| Bree Daniels: | And for an hour, for an hour -- I'm the best actress in the world... |