Knight of Cups
(2016)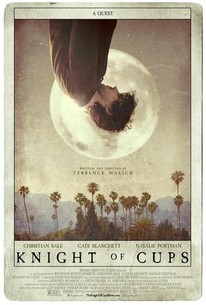 TOMATOMETER
AUDIENCE SCORE
Critic Consensus: Knight of Cups finds Terrence Malick delving deeper into the painterly visual milieu he's explored in recent efforts, but even hardcore fans may struggle with the diminishing narrative returns.
Movie Info
Knight of Cups follows writer Rick (Christian Bale, The Fighter, American Hustle) on an odyssey through the playgrounds of Los Angeles and Las Vegas as he undertakes a search for love and self. Even as he moves through a desire-laden landscape of mansions, resorts, beaches and clubs, Rick grapples over complicated relationships with his brother (Wes Bentley) and father (Brian Dennehy). His quest to break the spell of his disenchantment takes him on a series of adventures with six alluring women: rebellious Della (Imogen Poots); his physician ex-wife, Nancy (Cate Blanchett); a serene model Helen (Freida Pinto); a woman he wronged in the past Elizabeth (Natalie Portman); a spirited, playful stripper Karen (Teresa Palmer); and an innocent Isabel (Isabel Lucas), who helps him see a way forward. Rick moves in a daze through a strange and overwhelming dreamscape -- but can he wake up to the beauty, humanity and rhythms of life around him? The deeper he searches, the more the journey becomes his destination. The 7th film from director Terrence Malick (The Thin Red Line, Tree of Life), Knight of Cups (the title refers to the Tarot card depicting a romantic adventurer guided by his emotions) offers both a vision of modern life and an intensely personal experience of memory, family, and love. Knight of Cups is produced by Nicolas Gonda, Sarah Green and Ken Kao. Prominent crew includes cinematographer Emmanuel Lubezki (Gravity, Birdman), production designer Jack Fisk, costume designer Jacqueline West, and composer Hanan Townshend (To The Wonder). The film's ensemble cast also includes Antonio Banderas, Cherry Jones and Armin Mueller-Stahl.
News & Interviews for Knight of Cups
Critic Reviews for Knight of Cups
Audience Reviews for Knight of Cups
If Siddhartha Gautama lived on the west coast, never attained any sort of enlightenment but feigned his spirituality by reading obscure Gnostic texts and getting tarot readings all the while basking in the superfluous reveries of modern America (i.e. boobs), he probably wouldn't be a very good role model. Christian Bale's character seems to do just that in this film, and it was very difficult to feel any sort of kinship or empathy towards him. If Bale is here representing anything or anyone, most would place their bets on it being director Terrence Malick himself. If this is true then Malick has revealed himself to be less of a Bodhisattva and more of a bourgeois savant in "Knight of Cups". Taking the poetic stylism of his past few films to the absolute extreme, a few lines of on-screen dialogue become vital breaths of fresh air as the viewer wades in the mystifying soundtrack, swims through whispers of narrated subconsciousness, and drowns in the free-flowing dance of the camera. It's as ethereal as it is ephemeral. It is a beautiful but somewhat empty gift box that you can place whatever dreams, beliefs, or meaning you want inside. But if you aren't in the mood, it can be a grating bore. Malick's defining work "The Tree of Life" is an absolute masterpiece of cinema, and this movie seems to be an extension of that. It is an experimental film, and like all experiments it must have a hypothesis. I'm guessing the hypothesis for "Knight of Cups" was: Can I push the boundaries of visual language farther than the limits of my audience's patience? Given the past several films have continually pissed off Malick fans and haters alike, it is no surprise that you'll hear the word "pretentious" thrown out fairly often. Pretentious is a word that I think most people use to excuse their poor taste and/or lack of comprehension of a given work of art. To say that Malick and company are biting off more than they can chew or that they think of these films as more important than they are is a bit insulting to not only the filmmakers but also to those of us with a background in theology, mysticism, and/or the occult. The philosophy of the film is not half-baked, but it is a bit syncretic, blending eastern and western spiritual concepts at will. A brief literature review of the film (hell, just look up what the knight of cups means in tarot) will yield a more enriched understanding of the film. That being said, "Knight of Cups" and its recent predecessors are for the most part all head and no heart. That doesn't make them any less real, just less resonant. Look at Wim Wenders. Most people will be looking for the raw sentimentality of "Paris, Texas" not the beguiling odyssey of "Wings of Desire". For Malick, he's a much different man than he was when making "Badlands". Instead of focusing on those big moments when your life changed, he catches glimpses of someone walking off, or a brief exchange when flirting, or another disappointing day - when life was really changing, it just didn't feel that way at the time. All in all this film comes across as detached and a little too specific to the experiences of a straight, white, male upper-middle class artist, but there's more to be found if you delve deep enough.
K Nife Churchkey
Super Reviewer
Terrence Malick's are often something completely different from anything you'll experience at a movie theater, so I'm always interested in seeing the next thing he has up his sleeve. Knight of Cups continues his streak of highly experimental and undoubtedly polarizing filmmaking. I can't say it's the easiest to review, considering there really is no overarching story, so I'll instead opt to simply react to my time watching this ensemble piece. The main thing I took from the experience was that Malick wished to make something about the hypocritical underbelly of the Hollywood landscape. Christian Bale, who plays the main character (of sorts), is a Hollywood screen writer but we never truly get any sense that he works within the film business. Instead, it's his exploration or pilgrimage through the majestic world and sexual desires that come along with it. But really, that's about it. It's gorgeously shot by Emmanuel Lubezki, obviously, and Malick weaves through characters in an interestingly brisk fashion. I don't necessarily mean this in a critical way, but it may be a better watch without the unnecessary and strange narration or score. Instead, enjoy Lubezki's beautiful cinematography and several big name actor cameos as a background to whatever else you're doing. The story (or lack thereof) just didn't resonate with me. I much prefer Malick's earlier features with more polished performances and traditional script. But perhaps, that's just me. 40/100
Thomas Drufke
Super Reviewer
Malick throws up a tale of disillusionment and disconnection and ultimately succeeds in disillusioning, disconnecting the viewer. Filmed using practically every popular L.A. shooting locale (every friggen one!) and using nothing but a shoulder level fish eye lens (were there no other cameras in Los Angeles, film capital of the world?), characters wander about in and out of scenes, sometimes looking at one another but mostly gazing into the distance pensively. "Oh look, there's a face I recognize, a movie star. Who is it?" But they're already gone, their character's point in this festival of mumbled whispering as lost as you are no doubt apt to be.
Kevin M. Williams
Super Reviewer
Knight of Cups Quotes
| | |
| --- | --- |
| Rick: | I can't remember the man I wanted to be. |
| | |
| --- | --- |
| Rick: | You see the palm trees. They tell you anythings possible. |
| | |
| --- | --- |
| Rick: | All those years. Living a life with someone I didn't even know. |