Knightriders
(1981)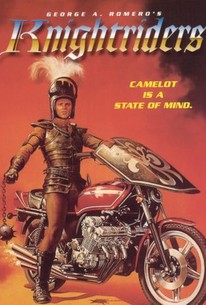 Movie Info
Knightriders may well be the only cycle flick ever to be played out in suits of armor. A hardcase motorcycle gang led by Ed Harris has found itself a neat money-making gimmick. Dressed as the knights of the round table, the cyclists pick up a few bucks at local "renaissance" fairs, selling handicrafts made by the more talented members of the gang. Harris' great rival is Tom Savini, who has his own band of "black knights." Keep an eye out for a chucklesome unbilled bit by novelist Stephen King. ~ Hal Erickson, Rovi
Critic Reviews for Knightriders
Audience Reviews for Knightriders
½
if you're interested in real life "interactive drama" on arthurian tales, you might be interested in this picture. interactive drama is the forefather of on-line video game. and its even earlier form is table-game. arthurian interactive drama is about a bunch of people who wanna impersonate the characters in arthurian legend, follow the basic rules and characteristics of their roles then immerse themselves in that fictional lifestyle. pretty much like war of warcraft put into reality-play. now this movie is about interactive drama lifestyle blended with motorcycle gang. the puritanical version of hell angels because the leader of the gang insists his crew live by the moral codes of arthur. and in the dialogues, they even bring out marlon brando's "the wild one" (narcissitic self-beautification also for the hell's angels in that hunter thompson's documentary book)... knightriders is kinda experimentally shot and only those who play interactive drama would be interested in it. but frankly interative drama is an absurd idea for me, an escapism, and i cannot help but feel ridiculous when i see those people dress in cheap-materialed costumes and live in a virtual world which really looks too fake to take it seriously. and i also feel strange about why that cult gives such an importance over that role-playing thing they do, and how they make a living? wouldn't that be boring to behave like that 24 hours a day? maybe that're just prejudices out of my criticial mind which demand high sense of realism. it's just like someone weeps over the death of his on-line game character...you feel like to laugh but he's so upset that you try to dissolve your contempt and lessen it into apathy.
Veronique Kwak
Super Reviewer
½
Has mythologizing as weird as Zardoz... Add melodrama; hippie disillusionment; cut-and-dried philosophical stands about selling-out, redneckophobia; subplots about sexual and gender identity; a way of editing the jousts that makes you feel cheated; and a way of editing most everything else that makes it look like the coolest industrial film you've ever seen. All added together you end up with... an endearing WTF
Adam Mahler
Super Reviewer
A pre fame Ed Harris is the only decent thing in this weird, way overlong hybrid flick, probably the only renaissance faire biker movie in existence.
Knightriders Quotes
There are no approved quotes yet for this movie.