Knocked Up
(2007)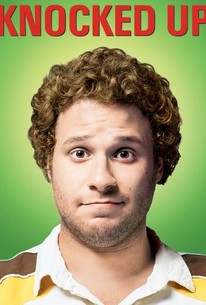 TOMATOMETER
AUDIENCE SCORE
Critic Consensus: Knocked Up is a hilarious, poignant and refreshing look at the rigors of courtship and child-rearing, with a sometimes raunchy, yet savvy script that is ably acted and directed.
Movie Info
When a one-night stand that should have stayed that way has unexpected consequences, the reluctant odd couple attempts to transform their tentative relationship into a lasting love in this conception comedy. Twenty-four-year-old entertainment journalist Alison Scott (Katherine Heigl) is on the fast track to the big time, but an alcohol-fueled hookup with responsibility-shirking slacker Ben Stone (Seth Rogen) finds her professional priorities taking a back seat to having a baby.
Critic Reviews for Knocked Up
Audience Reviews for Knocked Up
½
A good comedy, funny and sweet, whose first hour is so hilarious and raunchy it had me laughing real hard. After that, however, it becomes a bit irregular and stretches for too long, with some unnecessary and unfunny jokes that could have been easily left out.
Carlos Magalhães
Super Reviewer
If I were to rank the 10 funniest movies of the last 10 years, this would definitely be in the top 5. "Knocked Up" is the story of Ben(Seth Rogan) who has a one night stand with Allison(Katherine Heigl) and gets her pregnant. She is an aspiring TV personality for E! and he is a man child who lives with friends and loves to smoke pot. Polar opposites, but they try to make it work. The supporting cast is amazing and full of great comedic actors. Paul Rudd, Leslie Mann, Jonah Hill, Jay Beruchel, Jason Segal, among others. My favorites are probably Pete(Paul Rudd) and Debbie(Leslie Mann) as a married couple with 2 kids and a lot of problems. Hell, they have a sequel coming out about them. This movie is also full of great one liners, that are still hilarious. Just goes to show that R rated comedies can be raunchy, fun, and smart. This is a modern comedy classic that holds up nicely and remains mandatory viewing for all fans of comedy.
Everett Johnson
Super Reviewer
½
I love Judd Apatow movies because the dialogue is so cuttingly, honestly rib-burstingly funny. I laughed so loud I scared my neighbour's pregnant cat into labour. Katherine Heigl and Seth Rogen are earnest, clunky and so effing good-intentioned in this movie, but it's really the critical harpy sister Leslie Mann and her burnt-out-bludgeoned-down husband (Paul Rudd, holla) who steal the show for me. The two couples present a great comparison study for the "train your partner to become who you want them to be" school vs "love and accept them for everything they are" school of relationships. Either way it's always gonna be tough, but Apatow proposes a (dangerous) theory that all problems turn out okay when you make them knuckle-bitingly, snort-out-loud hilarious. He reminds me to be bold. Here's my favourite monologue from the show: Bouncer: It's not cuz you not hot, I would LOVE to tap that ass. I would tear, that ass, up. I can't let you in cuz you old as f***. For this club. Not, you know, for the earth. You old, she pregnant, can't have a bunch of old pregnant b****es runnin' around, that's crazy. I'm only allowed to let in 5% black people. He said that. 5%. That mean if there's 25 people here I get to let in one and a quarter black people. So I gotta hope there's a black midget in the crowd. Feel the truth.
Letitia Lew
Super Reviewer
Knocked Up Quotes
| | |
| --- | --- |
| Pete: | marriage is like an unfunny, tense version of "everybody loves raymond" |
| Pete: | Marriage is like an unfunny, tense version of 'Everybody Loves Raymond'. |
| | |
| --- | --- |
| Ben Stone: | [watching Cheaper by the Dozen after taking mushrooms] This isn't funny. This guy's got twelve kids, that's not funny. That's a lot of responsibility to just be... laughing about. This is sick. This is a sick movie. I gotta turn this off. It's freaking me out. |
| | |
| --- | --- |
| Ben Stone: | You know how they say to never drink and drive? Well, never drink and bone. |