Knowing
(2009)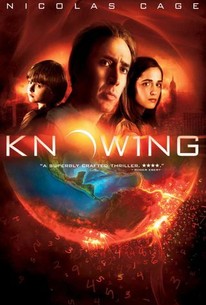 TOMATOMETER
AUDIENCE SCORE
Critic Consensus: Knowing has some interesting ideas and a couple good scenes, but it's weighted down by its absurd plot and over-seriousness.
Movie Info
A time capsule containing a cryptic message about the coming apocalypse sends a concerned father on a race to prevent the horrific events from unfolding as predicted in this sci-fi thriller directed by Alex Proyas (Dark City) and starring Nicolas Cage. 1958: As the dedication ceremony for a newly constructed elementary school gets under way, a time capsule containing student drawings of the future is buried on the grounds and scheduled to be unearthed on the school's 50th anniversary. Instead of submitting a drawing, however, one little girl scribbles a series of seemingly random numbers on her paper before it is buried. Fifty years later, the time capsule is unearthed for a new generation of students to examine. Young Caleb Koestler (Chandler Canterbury) is one of those students. The mysterious sequence of numbers falling into his possession, Caleb takes the paper to his father, Professor John Koestler (Cage), for examination. Studying the numbers, Professor Koestler soon discovers that they aren't random at all, but an encoded message containing the precise dates, death tolls, and coordinates of every major disaster since the time capsule was buried. Not only that, but the document also indicates that there will be three more such events, the last of which indicates a doomsday scenario that appears directly tied to Professor Koestler and Caleb. His desperate plea to authorities falling on deaf ears, Professor Koestler realizes that his only hope for preventing more lives from being lost is to take personal action. Though the author of the prophecies is no longer living, Professor Koestler is eventually able to track down her daughter Diana Wayland (Rose Byrne), and granddaughter Abby, who reluctantly agree to aid in the investigation. As the final date on the list draws near, Professor Koestler enters into a frantic race against time to prevent destruction on a global scale, in the process realizing that in order to save millions of lives, he may have to make the ultimate sacrifice. ~ Jason Buchanan, Rovi
Critic Reviews for Knowing
Audience Reviews for Knowing
½
Enjoyable Science Fiction thriller, Knowing managed to be a more impressive film than what I'd initially thought. Although not a great movie, this is nonetheless a good film, well worth your time. The film had a very good concept, which kept me entertained, however at times I did feel that there were aspects of the film could have been improved upon. Halfway through the film, the film seems to lose its vigor, and in turn, the vibe of the film sort of falters a bit, and instead of being a truly memorable, standout feature, it lingers on as a good, entertaining picture that never realizes its ambition of being a thought provoking, truly interesting film. I mean, the film is good, and it's entertaining, but it could have been so much more as well. Director Alex Proyas, who has experience in the Sci Fi genre, helms the project, and through his lens, he captures a good atmosphere that is engaging, but does lack in terms of unrealized potential. I was hoping for something truly great with this film, but as a whole, it's a good affair, one that is one of the better of recent Nicholas Cage films. If you can forget the film's flaws, you'll like it for what it is, just don't expect a truly grand sci fi epic, as the film leaves a bit to be desired. Proyas has directed better movies, but Knowing for what it is, is worth seeing if you enjoy mindless entertainment, and it's far better than what you might think. Although not a great movie, this film definitely doesn't deserve the negativity it has received. Go into the film with an open mind, and you might enjoy it.
John Koestler: The numbers are the key to everything.  "Knowing is Everything..." By no means is Knowing a perfect or great film, but it isn't nearly as bad as everyone claims it to be. In fact, I've always enjoyed this movie. Sure it's silly in ways, sure the ending leaves a lot to be desired, but come on this is a visual masterpiece and an extremely interesting take on the whole doomsday, apocalypse prophesy. There's a lot of people out there that just won't like it no matter what because of Nicholas Cage and the obsession that goes along with hating the guy. Is he great in this movie? No, but he isn't bad either, and movies like this don't call for amazing acting. They call for silliness from the actors, so Cage fits the bill perfectly.  50 years prior to the events that unfold an elementary school buried a time capsule to be dug up 50 years into the future. The children of the school were to draw a picture of what they thought the future would look like and then 50 years later, the future kids would get to see them. One girl, Lucinda, didn't draw a picture. Instead, she wrote endless, "random" numbers. When the capsule is dug up a little boy named Caleb gets Lucinda's numbers. He takes it home and his father who is a M.I.T. professor decides to try to decode the number sequences. When he does, he is left with startling information. Whenever this movie is brought up around me, it is constantly ridiculed for its stupidity and silliness. When in fact this one of the more serious doomsday movies you'll probably ever see. Silliness comes with the territory for sure though, but why is that a bad thing? It's the genre, either accept it or stop watching the movies. Like 2012, The Day After Tomorrow, and countless others; the movie is built around accepting the silly factor. Shouldn't all you of haters had learned this by now? Overall, this is an enjoyable, entertaining, and often suspenseful movie that has good pacing, amazing effects, mesmerizing cinematography, and a nice little score to boot. It's not going to change the face of cinema or anything, but as an addition to the apocalypse thriller genre;  it's one I accept with arms wide open.
Melvin White
Super Reviewer
½
A school girl puts a list of numbers into a time capsule. When the time capsule is opened 50 years later, a MIT professor discovers that the list predicted global disasters - the date, the location and number of fatalities. There are 3 future dates, but what happens when the numbers run out? Good cast, storyline and special effects. The movie is exciting and will have you on the edge of your seat until the end. The ending was very lame though. It's like A.I. good movie until the last half hour. If you like disaster and thriller movies like Unbreakable, Final Destination, Mercury, Deep Impact or A.I. you will like this movie.
Candy Rose
Super Reviewer
Knowing Quotes
| | |
| --- | --- |
| Reverend Koestler: | This isn't the end, son. |
| John Koestler: | I know. |
| | |
| --- | --- |
| John Koestler: | Everybody Else. |
| John Koestler: | Everybody else. |
| | |
| --- | --- |
| John Koestler: | Don't let him watch the news. |
| | |
| --- | --- |
| Diana: | What happens when the numbers run out? |