Knuckleball!
(2012)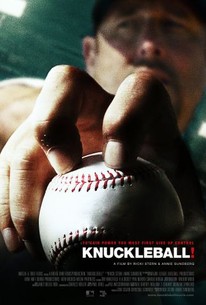 Movie Info
Knuckleball! is the story of a few good men, a handful of pitchers in the entire history of baseball forced to resort to the lowest rung on the credibility ladder in their sport: throwing a ball so slow and unpredictable that no one wants anything to do with it. The film follows the Major League's only knuckleballers in 2011, Boston Red Sox Tim Wakefield and New York Met R.A. Dickey, as they pursue a mercurial art form in a world that values speed, accuracy, and numerical accountability. With extraordinary access from the players and Major League Baseball, the film follows their personal quests with behind-the-scenes moments at the ballpark, on the road, and at home with family. -- (C) Official Site
News & Interviews for Knuckleball!
Critic Reviews for Knuckleball!
Audience Reviews for Knuckleball!
½
An excellent documentary on knuckleballers and their careers, especially Tim Wakefield and R.A. Dickey. It has a great focus on their lives and families, which is a nice touch. Worth checking out for any fan of baseball.
Stephen Skudlarek
Super Reviewer
½
While there there might be more informative documentaries than "Knuckleball!" it does have some good stories to tell that do not sugarcoat any of the pitchers' struggles while also stressing that baseball is more than just empty statistics, however gaudy they may be. In the case of Aroldis Chapman, extremely gaudy. At the other end of the velocity spectrum of pitchers comes quite possibility the last knuckleballers, Tim Wakefield and R.A. Dickey, who the documentary follows for the 2011 season. Since pitching is like real estate in that it is all about location, location and location, a knuckleball can be very effective despite its low relative velocity because not even the pitcher is sure of where it is exactly going. At its worst, the pitch does not move and you have batting practice which can give ulcers to managers and pink slips to pitchers. Explaining all of this well is knuckleball practitioners from the past including Jim Bouton and Tom Candiotti. And my favorite part of the documentary is a roundtable between Wakefield, Dickey, Phil Niekro and Charlie Hough, also a mentor to Dickey. While it is also fun to see old videos of the featured pitchers, the best part had yet to come for R.A. Dickey in his all-star 2012 season, just having won his 19th game of the season yesterday. That having been said, I would have liked to have seen more of the literature loving, subway riding and mountain climbing part of his personality that makes him sound so interesting.
Knuckleball! Quotes
There are no approved quotes yet for this movie.