Kolchak: The Night Stalker
(1974)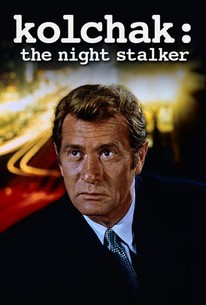 Critic Reviews for Kolchak: The Night Stalker
Audience Reviews for Kolchak: The Night Stalker
It would take too long to run this series down by episode but I can say that "Kolchak" was a TV series that really didn't fit into any category. Part horror, part comedy, some social awareness thrown in, and what we have is something that I think people weren't ready for. It's a shame really. Starring Darren Mcgavin as Kolchak a reporter for the International News Service, and Simon Oakland as his always angry boss, Tony Vincenzo, the show followed the exploits of a Chicago news reporter who more often than not, became a part of the story himself, as he searched the windy city for modern day creepies that go bump in the night. The underlying charm of Macgavin really sets the show apart. A somewhat goofy guy, who always wears the same suit, you cannot help but love him. His jokes are great, and the back and forth between him and the skeptical editor, Oakland, are downright hilarious. The stories are for the most part pretty good, and the acting is very good. The 70's were not a *great* period for special effects, and the show suffers for it, but if you suspend disbelief, what you have is a fun series that was ahead of it's time. Its still in reruns and the dvd sets are out as well. Check it out.
David Ladd
Super Reviewer
Influential television series. Still holds up and makes for fun viewing.
Anthony Valletta
Super Reviewer
Kolchak: The Night Stalker Quotes
There are no approved quotes yet for this movie.