Komodo
(2000)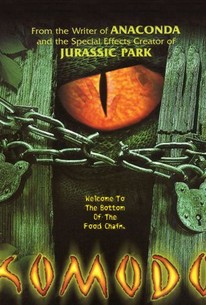 AUDIENCE SCORE
Critic Consensus: No consensus yet.
Movie Info
Michael Lantieri made his reputation in film as a special effects man, helping to create the dinosaurs for Jurassic Park, so for his directorial debut, it's only fitting that he should find himself working with big lizards again. In Komodo, teenager Patrick (Kevin Zegers) is visiting an island off the coast of North Carolina when his parents (and his dog) are attacked and killed by a pack of large Komodo dragons. The reptiles were brought to the island by workers from an oil company, who foolishly allowed them to breed at will and run free. A psychiatrist treating the boy (Jill Hennessy) tells him (in one of the most poorly considered bits of advice in medical history) that he must face his fears by returning to the place where his mom and dad were attacked. With his aunt (Nina Landis) in tow, Patrick returns, only to discover that the dragons are out in force -- and quite hungry. As in Lantieri's previous work, the killer lizards were actually the product of the special effects department -- not real Komodo dragons (who might not be inclined to kill on command).
Critic Reviews for Komodo
Audience Reviews for Komodo
From the writer of Anaconda and part of the FX team of Jurassic Park comes a a really solid creature effects with some nice moments and really good FX (by genre standards anyway). Nothing revolutionary, but what it does it does well.
Ken Stachnik
Super Reviewer
If, like me, you are a big fan of cheap monster movies, then you should check out Komodo. A fairly respectable cast assemble to tell the story of a young boy forced to return to the site of his parents death. His psychiatrist thinks it will be good for him, little does she know some nasty Komodo dragons lay in wait, ready to rip some shit up. The characters are believable and the film manages to avoid many cliches by keeping the cast of characters small. The biggest plus to this film are the effects, they are exceptionally good for a film of this budget, especially considering it is around 10 years old now. It mixes CGI and puppetry, seamlessly.
Luke Baldock
Super Reviewer
Komodo Quotes
There are no approved quotes yet for this movie.